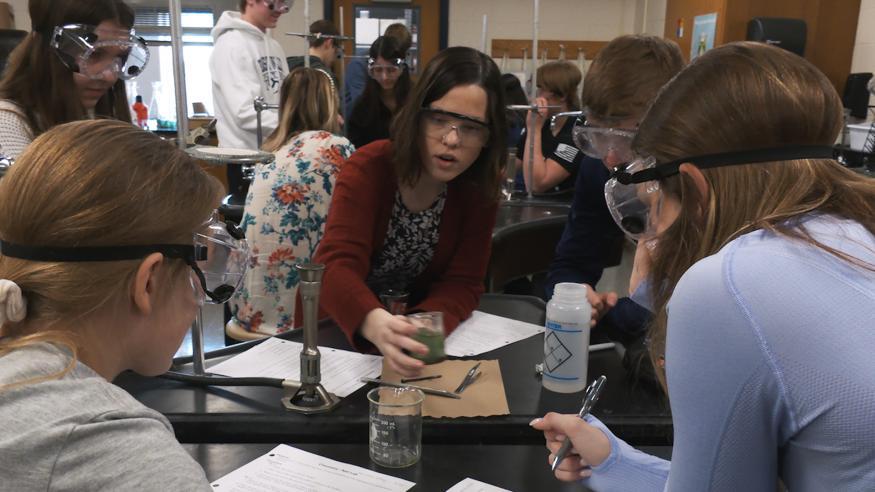 News
Augustana gets $1.1M grant for future teachers
Augustana College has received a $1.1 million grant to enhance the learning experience for future STEM teachers in high-need districts.
The grant is from the National Science Foundation through the Robert Noyce Teacher Scholarship Program. The grant funds scholarships, training and mentoring support for Augustana STEM students with plans to teach STEM subjects — science, technology, engineering and mathematics — in high-need school districts in the Quad Cities.
Augustana junior education majors may apply for Promoting Opportunities in STEM Teaching (POST) scholarships, which range from $10,000 to $30,000 per year. 
Six Augustana juniors have been selected for the inaugural cohort in the 2020-21 school year.  Applications for future scholarships will be due in May of the applicant's sophomore year.
Students who receive a POST scholarship commit to teaching in a high-need school for four years after graduation.
"Providing our future teachers with the skills they need to positively impact the lives of those in high-need school districts is an important step in giving all students an equal opportunity for success," said U.S. Rep. Cheri Bustos, representing Illinois' 17th District.
"More skilled teachers coming from Augustana College will help alleviate the teacher shortages we have seen across the Quad-Cities area."
Dr. Mike Egan, associate dean of academic affairs, guided the college through the application process to receive the grant. Along with professors in the education, biology and physics departments, the team applied for the grant in August 2019.
Collaboration among academic disciplines is at the forefront of an Augustana education and something that future teachers model in their classrooms.
"Our students' experiences in their liberal arts core courses help prepare them to be thoughtful, holistic problem solvers," said Dr. Egan. "Our students receive rigorous training in their academic disciplines and, hence, bring strong content knowledge to their teaching sites."
In addition to education in their academic fields, Augustana's POST scholars will be specially prepared to teach middle and high school students.
"Augustana's commitment to developing thoughtful, liberally educated servant-leaders ensures that our graduates will contribute positively to their communities," Dr. Egan said.
Contact: