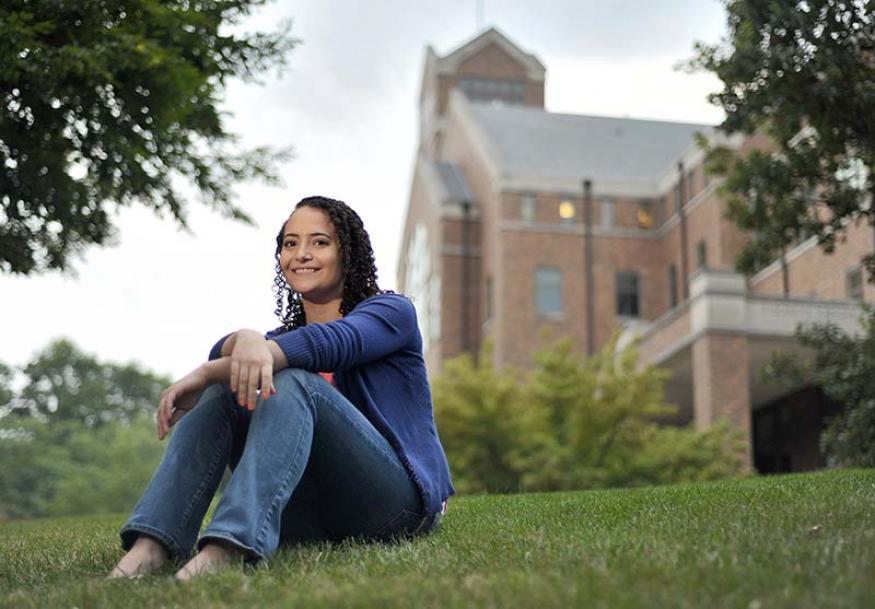 News
Ecuador Project could change service-learning
An initiative to create more meaningful service-learning projects for students, ones in which the real benefits are measured for the communities they serve, is gaining momentum on campus.
David Voland '15 galvanized the movement after spending a summer at San Jose de Calasanz, a school for special-needs students in Ecuador. Now, Gabrielle Snyder '18, an English/secondary education major, is picking up the torch for the coming year.
After getting to know the students, Voland found that they had many needs, so he asked for help in making a wish list of the school supplies they needed most. Then, using the social media site GoFundMe, he raised $1,500, enough to buy everything on the list.
Leaving the school in Ecuador with something of enduring value was a breakthrough for Voland. It raised the possibility of a more authentic partnership, he said, perhaps more akin to Augustana's relationship with Longfellow Liberal Arts School in Rock Island, a partnership that sets long-term goals with close attention to Longfellow's needs.
"I think Augie's relationship with Longfellow is a great example of a mutually beneficial and sustainable partnership," he said. "Augie and Longfellow can count on each other every year, and constantly keep in contact about how things are going. Both institutions benefit from this relationship, which is very important."
Faculty like the idea
Voland, an award-winning student-athlete, spent much of his senior year circulating the idea of a deeper connection with San Jose de Calasanz. He founded "The Ecuador Project," a student group dedicated to sustaining the partnership after his graduation. Just as important, he found a deep well of support among Augustana faculty, many of whom had struggled with similar issues in their own service-learning programs.
"While service-learning is providing a rich and meaningful life experience for our students, it is not always clear whether the community receiving the service is gaining as much," said Dr. Michael Egan, an associate professor of education who is active in service-learning programs at Augustana.
Now, Dr. Egan and faculty leaders in Augustana's service-learning community are collaborating with Snyder on a yearlong research project in support of The Ecuador Project. Also involved are Dr. Jeffrey Ratliff-Crain, associate dean of curriculum and enrichment, and Dr. Araceli Masterson-Algar, assistant professor of Spanish. It's the kind of faculty collaboration that drew Snyder, from Beecher, Ill., to Augustana in the first place.
"I didn't commit to Augustana until I talked to some of the professors and understood how much the professors really care," she said. "Then I knew Augustana was the place for me. I felt I was already part of the college before I even enrolled."
Ways to make help meaningful
Snyder's goal is to develop a set of best practices for service-learning programs that can be posted on a website for students at Augustana, or any other college. Ideally, it will answer questions about how students and faculty can be more sensitive to the communities they wish to serve, develop better long-term relationships, and make sure the volunteer labor they provide is truly useful.
Snyder also will travel to San Jose de Calasanz next summer to conduct interviews and ensure the Ecuadorian school's own perspective is incorporated into her report on best practices. She will have financial support as one of the inaugural recipients of a Board of Trustees Fellowship, given to select Augustana honors students their first year. It carries an award of $1,000 for study away, an internship or research. Snyder wasn't sure how she would spend it until she met Voland, and the faculty who had supported him.
"I knew, using my fellowship, that I wanted to do something that was going to matter," Snyder said. "I didn't want to write a paper that somebody would read and that would be the end of it."
Voland's initiative struck a chord that continues to resonate with both students and faculty. Dr. Egan said he hopes it will lead to an ongoing conversation, and perhaps systemic change in the college's approach to international and domestic service-learning programs.
"The faculty here thinks big, and I'm grateful for it," Snyder said. "There are problems to be resolved, and higher goals to think about."
About the Board of Trustees Fellowship
Gabrielle Snyder '18 was selected last year as one of Augustana's first cohort of 41 Board of Trustees Fellowship recipients. Each received an award of $1,000. Similar to Augie Choice, it can be applied toward research, internships or study away, but must be used in a student's first or second year. (Augie Choice provides $2,000 for juniors or seniors.) In collaboration with the offices of admissions and academic affairs, incoming first-year students are invited to compete for the Board of Trustees Fellowship based on academic promise.
Selection is based on their level of engagement, passion to make a difference, an essay and group discussion interactions. The competition event usually occurs the first Saturday in February. The Trustees Fellowship program will continue this year as a way to support promising students who want to engage with a project outside the classroom. Dr. Jeffrey Ratliff-Crain, associate dean of curriculum and enrichment, is the group's advisor.