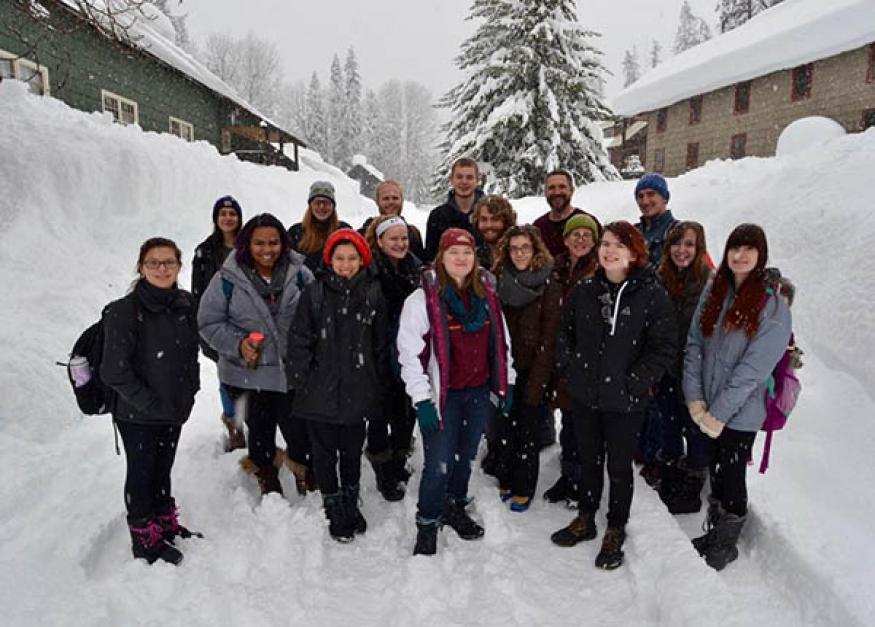 News
Learning Community returns from the mountains
Fifteen students and three professors have returned from six weeks of study, reflection, snow shenanigans and communal life at Holden Village in the North Cascade Mountains of Washington.
Dr. Jason Mahn, an associate professor of religion, writes on the fortifying lifestyle and learning experiences of that special place.
During our six weeks at Holden Village, we lived, read, worked, skied, snowshoed, meditated, laughed and knitted together. What we didn't do is check email, send texts or make phone calls.
Once an abandoned copper mine, Holden is now a Lutheran Retreat Center and intentional religious community near Chelan, Washington. It is also one of the most remote inhabited areas in the continental United States. To get there, we traveled three days by train, boat and a switchback-cradling school bus. Because of the massive Wolverine Fire that swept through the area late last summer, increasing the risk of winter avalanches, the trip was almost canceled. Glad it wasn't, we also were happy for the ample avalanche safety training once we arrived.
Holden is an experiment in communal, intentional living. We made our own music, conversation, winter hats, pottery and much of our entertainment. We participated in vespers prayer service every day. In lieu of texts and emails, we wrote letters to friends and families. The village also provided a perfect laboratory for deep investigations and wide wonder.
Students in Dr. Tim Muir's Applied Ecology course explored their place in the natural world and learned to preserve and conserve it. Beneath six feet of snowpack and a looming Copper Peak, they also conducted observations of nature in their individual "mandala circles"—a square-meter observation site where students looked up, down and inward to take the temperature (sometimes literally) of the natural world, humans included.
Dr. Jane Simonsen's West in American History course examined the history of the idea of wilderness, of westward expansion, and of Native Americans through theory, art, photography and narratives. With thousands of artifacts and images in its own special collection, Holden serves as a window into the past and as a mirror for ideas about what it means to be American.
In my Creator, Creation and Callings course, students retrieved theological resources for valuing bodies, work, community, creation and other gifts from God. With vespers every evening, shared work around the village, and the gifts (and challenges) of close communal living on full display, Holden offered students a chance to reflect on who they are called to be in this unique community, and when they come down "from the mountaintop."
There also was a good deal of fun, including Holden's Winter Olympics (featuring snow ballet, hot chocolate spitting, and so forth), practical jokes between students and villagers, and one very forgettable wrestling match between Josh Symbal '16 and this religion professor.
All in all, the experiences at Holden led to new understandings of what taking root and being placed might mean today.