Augustana offers a major and minor in accounting, and an accounting certificate program. 
Careers and internships
Most accounting majors complete internships. Internships include the Big Four accounting firms (Deloitte, Ernst & Young, KPMG, PricewaterhouseCoopers) and other top-10 national and regional firms, including McGladrey, Grant Thornton and Crowe Horwath.
Students also have internships with small- to mid-size accounting firms and large companies such as Deere & Company, Caterpillar and State Farm Insurance.
Augustana's largest concentration of recruiting is with firms in the Quad Cities and the Chicago area; however, accounting alumni work for firms all over the country.
In recent years, some students have obtained prestigious internships with the Governmental Accounting Standards Board (GASB). The GASB internship is highly competitive — Augustana students have successfully competed for these positions with students from other top accounting programs in the U.S.
The majority of internships lead to full-time offers. Many accounting majors have full-time jobs before they graduate.
Recent graduates
Here's a sampling of what recent accounting graduates are doing:
Matt Pelton '10 is a manager in KPMG's Deal Advisory practice in Chicago.
Kimberly Olson '13 is working as an auditor at Selden Fox, LTD, in Oak Brook, Ill., while pursuing CPA and CFE designations.
Kevin Waibel '13 is a tax consultant at at Deloitte & Touche.
Distinctions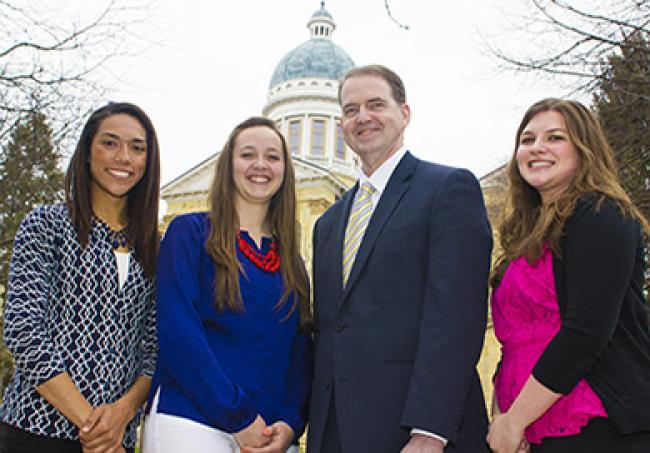 Augustana graduates work as accountants in public, private, government and non-profit jobs.
Accounting majors study a core group of courses in accounting, and then each student shapes his or her curriculum depending on career goals. Most students double-major in other disciplines, such as Spanish for Professional Use or Business Administration, to complement their accounting skills.
Augustana focuses on strengthening accounting students' skills in communication. It also stresses business ethics and teaches the subject in a format tailored for accounting professionals.
The Quad Cities is home to more than 30,000 businesses, including Deere & Company World Headquarters, 3M, Alcoa, and the Rock Island Arsenal, a major military installation.
Accounting students get experience through the Volunteer Income Tax Assistance, a federally approved program designed to help people who cannot afford professional tax preparation. They also gain experience conducting audit projects for local businesses and non-profit organizations. Our top students participate in the case competition sponsored by the American Institute of Certified Public Accountants.
The college offers a post-baccalaureate program for students to complete the 150-hour requirement to sit for the Certified Public Accountant exam. Students who have paid for four years of tuition at Augustana are entitled to a 50 percent tuition discount for the Accounting Certificate Program.
What students say
Eric Dratnol '14, accounting, applied mathematics and business administration–management information systems
Academic All-American in football; completed internships at Deere & Company, Moline, and Grant Thornton, Chicago; M.S. in accounting, Wake Forest University, full-ride fellowship; CPA; accountant with PricewaterhouseCoopers, Chicago
"Augustana's accounting department allowed me to build the foundational accounting knowledge I have needed. In both internship and graduate school environments, I've relied on that foundation to compete with a growing pool of talented peers from schools across the country. The faculty teaches in a way that allows students to retain information and apply it when new issues arise. Between the opportunities provided at internships and graduate school, and the knowledge I had when I left the program, I can truly say Augustana's accounting department has given me the tools I've needed to confidently enter the wider professional world."
Austin Zarbuck '14, accounting and business administration–marketing
Completed internship with Grant Thornton, Chicago; M.S. in accounting, Ohio State University, full-ride fellowship; accountant with Grant Thornton, Chicago
"The accounting program at Augustana has truly shaped my career path for the better, and I am so proud to call myself an Augie graduate. Starting with the personal attention in the classroom, to setting me up with the right connections, I would not be where I am today without the help of my accounting professors. The curriculum balances the technical knowledge with how to think like successful professionals. The department also has strong ties with a wide array of public accounting firms, private companies and graduate schools, to set students up for that next step. On top of all this, what sticks out most for me about my experience is that the faculty were personally invested in my success and pushed me to reach my full potential."
Kimberly Olson '13, accounting and business administration
Currently an auditor at Seldon Fox, LTD, Oak Brook, Ill., and pursuing CPA and CFE designations
"Originally, I was going to be a secondary education and English major, but I started to realize that I was meant to do something else. I switched to accounting and business, and I loved it from the very beginning. The faculty were amazing, and the opportunities were abundant. I realized what I am truly passionate about… and that is auditing and fraud investigation.
"My internship with State Farm in Bloomington, Ill., opened my eyes to what my majors had to offer and it developed me professionally. I also met some amazing people at State Farm, and will cherish those contacts for many years to come."
Kevin Waibel '13, accounting and business administration-marketing
Currently a tax consultant employed at Deloitte & Touche, Davenport, Iowa; CPA
"When I came to Augustana, I knew I would do business and accounting, but there is no way I envisioned being where I am. The accounting department and basketball program gave me so many opportunities, including my internship at Deloitte. I am thankful for the faculty at Augustana for being flexible and helping me succeed."
Matt Pelton '10, accounting and business administration; M.A., international relations, IE University, Spain
Currently MBA Program Manager, African Leadership Unleashed (ALU), Mauritius, Africa
"After completing a one-year postgraduate program with the Governmental Accounting Standards Board (GASB), I began a career in accounting advisory in KPMG's San Francisco office. At GASB, I was exposed to some of the brightest and most influential people in business and accounting today. It was humbling at times, but also satisfying that Augustana had prepared me to interact with those people and to contribute to their conversations and processes. I was confident I could comprehend and analyze complex accounting issues and, when I had questions, to communicate with others effectively.
I am extremely grateful for the sincere willingness of the professors to help their students progress as accountants, secure employment opportunities, and develop as people."