Augustana College offers a minor and major in data analytics.
Data analytics is the science of analyzing raw data to find trends and draw conclusions. At a time when mass information is coming from all directions, the ability to find and interpret data is increasingly important to institutions, organizations and industry.
Dr. Martin Coe, department chair, predicts that many students will choose to double-major with data analytics and another field. "There is not a single major it doesn't go with," he said.
And, he added, it is much easier to double-major at a smaller school with strong advising like Augustana.
Only a few liberal arts schools have a data analytics major. "It is a multi-disciplinary major and that is how we teach it," said Dr. Coe. 
Why Augustana?
Data analytics is a multidisciplinary field with application to many professions and areas of study. A broad liberal arts education such as Augustana's, which builds critical thinking skills and the ability to make connections, is the ideal foundation for a major or minor in data analytics.
Augustana graduates also can communicate effectively, think and act ethically, and work well in teams — all qualities that are prized by employers today.
Data analytics is one of Augustana's newest academic programs, focusing on business analytics and including includes coursework in computer science, mathematics, ethics and statistics, along with courses in data analytics.
During their first three terms at Augustana, students enroll in courses designed to help them become active, critical learners. Because of this background, an Augustana data analyst will be trained in deep reasoning and diverse thinking, possessing a perspective of seeing across boundaries so they ask not only "Why?" but also "Why not?"
Augustana's program will have five components: prerequisite courses in statistics, spreadsheets and databases; courses in computer science; three specific data analytics courses; electives in the student's chosen field; and an internship or major project within a student's field that incorporates data analytics. 
Students will learn to use industry standard tools: the Python programming language, Tableau business intelligence software, R algorithm development, Microsoft's Access or SQL, the Alteryx data analytics platform, and statistical tools SASS or SPSS.
Complementary coursework in other fields includes accounting, business, computer science, geography, mathematics and philosophy.
Recent graduates
Pavel Yashurkin '20 accounting payroll intern with Group O, Milan, Ill.
Bryson Adcock '20 business analytics graduate student at the University of Iowa.
Mai Nguyen '19 VietChallenge Mentorship Program Director, Boston.
Careers and internships
There has never been a better time to enter the workforce with knowledge and experience in data analytics. IBM predicts 2.7 million new data analytics jobs in the United States in 2020.
These industries seek graduates who can communicate effectively in person and on paper, and who can successfully work in teams. Augustana's curriculum is built on a foundation of educational requirements that make this field of study a natural fit for our students. Students in all majors master the art and science of asking the right questions, finding patterns, collaborating, communicating well, connecting disparate ideas, and addressing ethical concerns and issues
Both the major and minor include practical experience and a completed analytics project — with an outside business or organization — that can impact job opportunities after graduation. 
Students in the major work on projects provided by actual firms. The finished project fulfills the requirements for Senior Inquiry in the major and enhances students' portfolios for the job
search or graduate school.
The college's location in the Quad Cities also provides many opportunities for internships, employment and community outreach.
What alumni say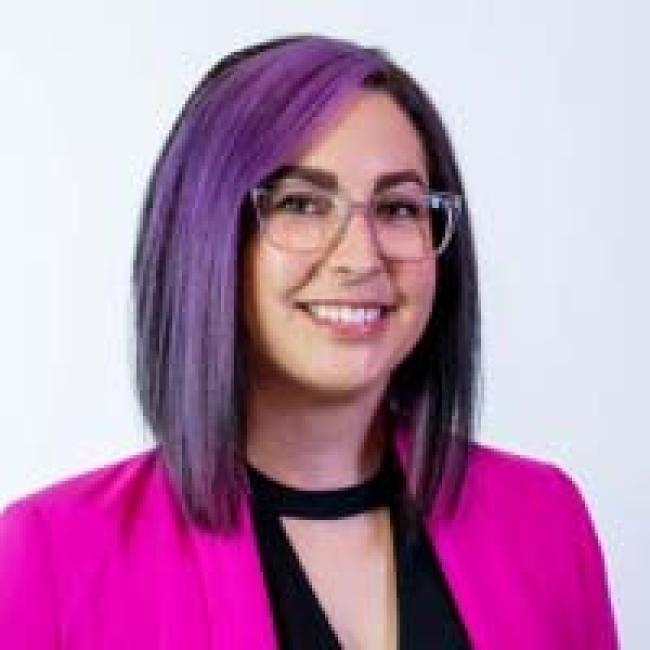 Valerie Kroll '07, business administration–marketing and psychology major
Director of Optimization at Search Discovery; president of the Digital Analytics Association, New York City
"The industry that I'm in today, digital analytics, was just starting when I started college, so there weren't any classes in digital analytics, or how to leverage Javascript-based tags and data coming through your CRM, and all the different business intelligence to move your business forward. It didn't exist.
But one of the things I took away that still applies to my world role today is the critical thinking skills and how to be resourceful. I'm not afraid of some of the challenges or the constantly changing ecosystem, because what Augustana provided me was the chance to explore lots of different topics, lots of different ways of studying that prepared me for this constantly changing environment."