Careers and internships
The geography department encourages all majors to have an internship or field experience. Augustana's location offers many opportunities for work experience and on-the-spot investigations into urban and rural problems.
The Quad Cities is a large metropolitan area on the Mississippi River — two states, three counties and 14 municipalities. It is home for the offices of several national environmental agencies and the Rock Island District Headquarters of the Army Corps of Engineers.
Most geography work is centered in urban planning, Geographic Information Systems, environmental management, teaching or foreign service. Augustana graduates are involved in vocations including urban planning, environmental protection, cartography, U.S. Foreign Service, hydrology, community planning and development, and high school and college teaching.
Augustana's students gain admission to graduate programs in geography, regional planning, landscape architecture and environmental studies. Currently, graduates attend institutions such as the universities of California–Berkeley, Wisconsin–Madison, Wisconsin–Milwaukee, Illinois at Urbana-Champaign, and Southern Illinois.
Recent graduates
Here's a sampling of what recent graduates are doing:
Alan Sabat '14 is a planning and development specialist for Scott County, Iowa.
Scott Fick '13 is earning a master's of science degree in sustainability at Christian-Albrechts-Universität zu Kiel.
Greg Patton '13 interned with the Associated Colleges of Illinois and Yellowstone National Park. He's going on the World Race, an 11-month mission trip to 11 countries.
Distinctions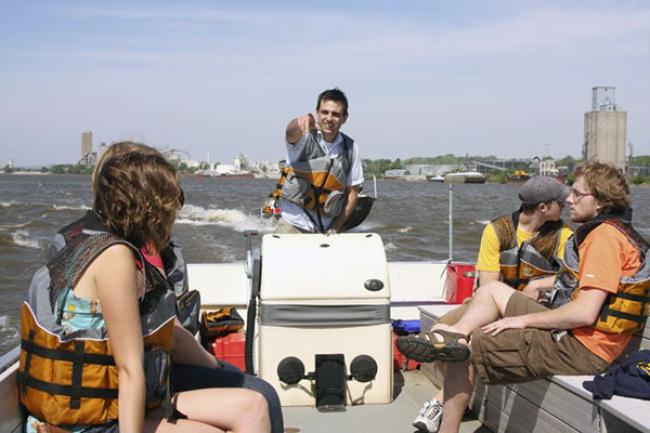 Augustana offers a major and minor in geography, a "bridge" discipline combining the natural and social sciences. The program introduces students to urban and rural environments, other cultures, international issues and economic systems. The liberal arts curriculum encourages working relationships in related fields, particularly biology, business, geology, history, political science, public administration, Asian studies and Latin American studies.
Some students assist faculty on research projects for area agencies: flood plain and land use inventories for the U.S. Army Corps of Engineers; housing surveys for Davenport, Iowa; architectural surveys for Rock Island and Moline, Ill.; and watershed land use studies for the U.S. Natural Resources Conservation Service.
Four faculty members, each with a Ph.D., teach physical geography, human geography and methodological courses, including Geographic Information Systems, complemented by field experience.
The department's research boat, The Scholarship, takes students onto the Mississippi and Rock rivers for research on water resources, urban planning, transportation and biogeography.
Geography majors embark on field trips with class groups or the entire department. Recent destinations include the Pacific Northwest, Mid-Atlantic East Coast, Colorado and New Mexico, Great Plains, Upper Mississippi Valley, Wisconsin and the Lake Superior region.
The geography and the geology departments are housed in Swenson Hall of Geosciences, a proximity that encourages cross-disciplinary work and interests in the earth sciences. Swenson Hall also houses the Fryxell Geology Museum and the bulk of the David M. Loring Map Library which holds more than 100,000 climatic, geologic, hydrologic, topographic and transportation maps and 6,000 aerial photographs.
What students say
Scott Fick '13, geography major, environmental studies and Spanish minors
"I came to Augustana thinking about environmental studies as a major, but I was encouraged to consider being grounded in one of the other science departments for depth and having an Environmental Studies minor, and I soon found the Geography department, which I had not really considered because I did not really know what it was (like many people, I simply thought it involved maps and memorizing places). I quickly realized that Geography was much more and it was what I wanted to study, as it approaches human-environment interactions, looks at both cultural and physical geography and is a broad discipline with a great deal of different opportunities for a career."
Shawn James '09, geography major, agricultural/nutritional volunteer for Peace Corps
"My education as a geography major at Augustana has given me an understanding of the intrinsic properties in landscapes. Through spatial thinking and consideration of cultural, political and environmental aspects of the land, I can get a comprehensive idea of an area's sense of place. This impression of sense of place is essential in landscape architecture and has enabled me to produce meaningful and spatially relevant designs. Most importantly, studying geography at Augustana has given me a heightened sensitivity of often-overlooked aspects of everyday life and our surroundings. Due to the nature of the field, it is helpful for landscape architects to know a little about everything, which is what has inspired me to be a lifelong learner."