Augustana offers a major and minor in studio art, a major in art education, and a major and minor in graphic design.
Careers and internships
Many studio art majors prepare for graduate work in a specific art genre or for a career in areas such as art administration or education, art therapy, medical illustration or museum work. Some students double-major or minor in areas such as art history, psychology, biology, education or business.
Art-related internships are available to integrate these areas, and faculty advisors work with students to help them apply their talents to future goals.
Graphic design majors and minors have launched their careers in museum marketing and design for news and industry. Art education students are employed in public and private schools.
Recent graduates
Amanda (Ebert) Murphy '17 (graphic design) is a marketing product specialist with Parksite in Batavia, Ill.
Emily Grooms '17 (art) is attending a Special Program in School Psychology at Western Illinois University.
Becky Brosch '17 (graphic design) is a clinical research coordinator at Washington University School of Medicine.
Maureen Joyce '17 (graphic design) is a marketing coordinator and graphic designer with Performance Food Group in Davenport.
Nikki Radloff '15 (graphic design) is the creative director at Audentio in Rockford, Ill.
Jasen Hengst '14 (graphic design) is self-employed and the owner of Jasehen.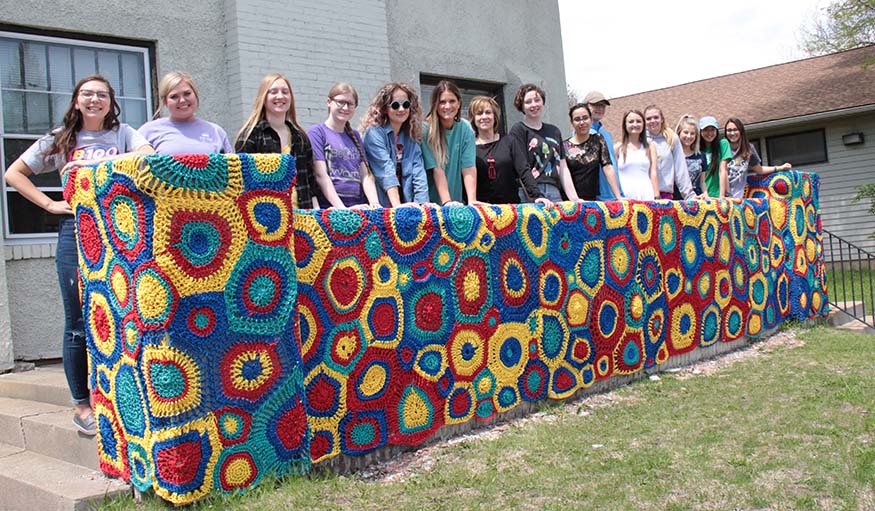 Distinctions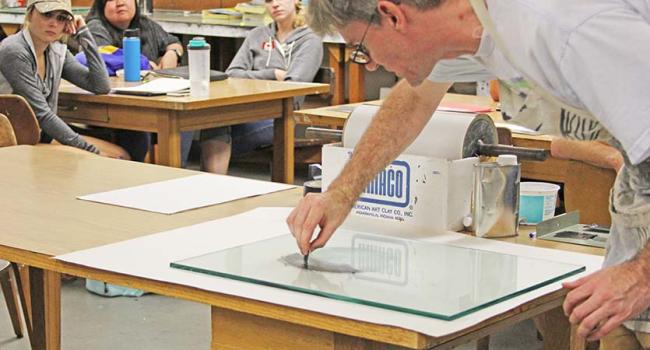 Studio art majors choose a focus in one of seven areas: ceramics, drawing, painting, photography and sculpture, fibers and printmaking.
Graphic design majors have a traditional fine arts foundation, which focuses on creative problem-solving. Courses in art history and a survey of contemporary graphic designers add perspective to the major.
Beginning classes have only 15-20 students, and upper-level courses are generally smaller. The close faculty-student relationship is especially important in hands-on work such as studio art. Students in the department learn to express their ideas and emotions via the formal elements of art, while at the same time gaining an understanding of art's larger social and disciplinary contexts. International terms often include art classes in the curriculum.
Working closely with a faculty member, students integrate learning from throughout their liberal arts education to complete their project, which includes a written essay and public presentation. At the end of the capstone experience, students have a portfolio of work to use as they prepare for graduate school or employment.
The art department is housed in three buildings: the art building, the pottery/sculpture studio and the Abbey art studios. These buildings house separate facilities for painting, fibers, 2D design, weaving, ceramics, sculpture, photography, drawing and wheel-throwing.
The ceramics studio has a wood fire kiln and a rolling gas car kiln, the kinds of high-quality kilns generally available only to graduate students.
The Augustana College Teaching Museum of Art has a full-time staff and is readily accessible to art classes. Through traveling exhibitions and the extensive permanent collection, students view original works of art as primary texts for class discussion, as well as inspiration for their own work.
Augustana sponsors an on-campus community program called Kaleidoscope, offering short-term art classes and workshops for children. Many art and art education students serve as teachers and aides for Kaleidoscope, gaining experience for their future work.
What students say
Elena Scherer '13, graphic design and multimedia journalism and mass communication majors:
Currently senior user experience designer with Superside in the Netherlands
(On winning graphic design awards for her work on the Augustana Observer at the annual Illinois College Press Association conference in 2013)
"I think newspapers are going in the direction of having really good design because it helps get the information across in a more effective manner. If I can convey what the story is about in a graphic without twisting it in any different direction or showing bias, that's a successful graphic."
Holly Gore '11, art education and studio art majors:
Currently art teacher at Chicago International Charter School-West Belden Campus
"When I came to Augustana, I was interested in teaching and in creating my own art. I was not sure that I would be able to double major in these areas because I had been told at other colleges it was not even an option. Because I came to Augustana and worked hard to plan it all out, I graduated with both majors and was a part of the senior art show! Besides my family and friends, it was the faculty that helped me to accomplish my dream. The professors really get to know you and care about you here. I have had so many meetings and wonderful conversations with the professors; I have no idea where I would be now without them. The art department has always helped me to find a way to make both majors work. We had to plan out the classes and make sure I found a way into those classes, not to mention how much they have helped me to improve my artwork! The education department also has helped guide me immensely. My advisor is amazing as a professor and as a mentor. The education department helped to shape me into an amazing person and teacher; I owe a lot to them."
Jeff Chin '10, studio art and communication studies
Currently creative director with Road To Infamy Games and a freelance video editor, Chicago
"In my time at Augustana I was part of three design internships and the Augustana Web Guild, where I developed my skills in web design and client interaction. It was these experiences that gave me the confidence to become a professional graphic and web designer and also start my freelance design career."
Kristina DeRycke '10, studio art and biology; M.S., biomedical visualization, University of Illinois at Chicago
Currently medical media program manage with Children's Hospital Colorado, Denver
"I received an education I believe surpasses most. Not only did Augustana vigorously prepare me in my studies, it opened up one of the best internship opportunities I could have wanted at the Texas Medical Center. I have chosen a field which is extremely small, but chock full of opportunities, especially in a world which is progressively becoming more digitally and visually based."
Liz Wierzbicki '10, studio art and mathematics; M.F.A, visual art, Herron School of Art and Design, Indianapolis
Currently an instructor at Purdue University and Herron School of Art and Design; resident artist at D'Clinic studio, Slovenia
"Augustana helped me better develop my interests and skills and assisted me in determining the career and life I wish to pursue. I advise students to pursue their true interests in subjects and not just major in something that will translate easily into a job. Do what you love."
Jasen Hengst '14, graphic design
Owner, Create Design by Jasen Hengst, Rock Island
"The simple difference between Augustana and other schools that I visited: Augustana made me feel wanted and welcomed. And so I went where I felt wanted. I was surprised to find I am interested in more disciplines than just my major, like religion, computer science, creative writing, photography, and psychology. I've had some "aha" moments where I connected other studies with what I can implement in my design."
Kelsey Kammerzelt '15, graphic design and communication studies; art minor
Currently brand logistics manager with Prodigious Worldwide, Chicago
"I started out as a biology/pre-medicine major, and then I totally flipped my decision and changed my major to deal with the arts. My peak experience was when I decided to switch majors. Although it was scary at the time, it opened a lot of doors for me, and I pushed myself with the help of my professors to jump right into a new field and a new discipline. I never thought I would be so fortunate to have the opportunities ... I never could have dreamed of when I first started at Augustana."