Augie Treats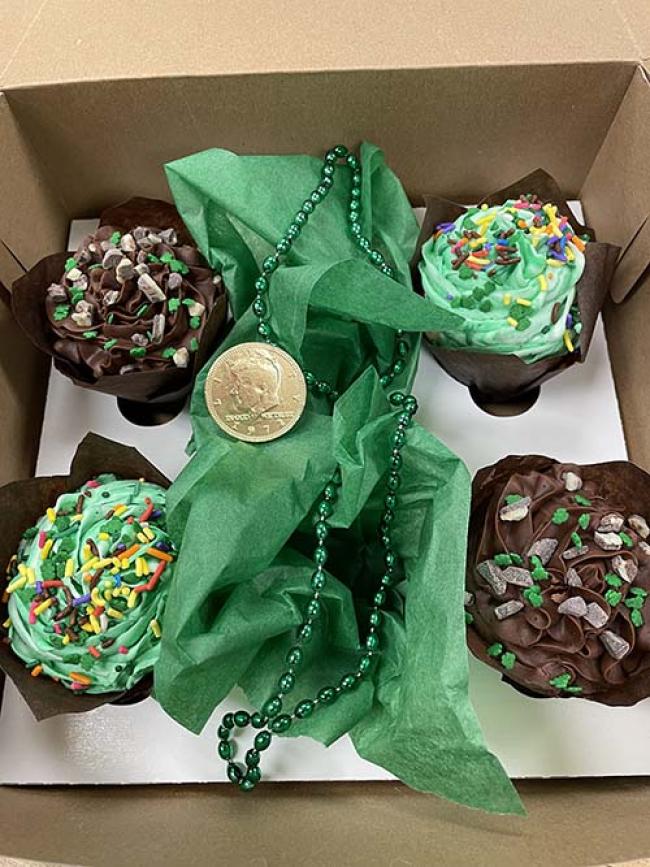 Augie Treats are a special way of giving students that extra little bit of encouragement during finals week, or simply saying happy birthday, or  "I'm thinking of you."
Dining Services offers treat boxes year-round, and special themed boxes on select holidays
St. Patrick's Day
The St. Patrick's Day box includes four supersized cupcakes: two vanilla cupcakes with green frosting, decorated with shamrocks and sprinkles, and two Andes Mint cupcakes with chocolate frosting, decorated with chopped Andes Mints and shamrocks. Cost is $10.
Order by 5 p.m. March 12. Pickup will be March 17.
Year-around Augie Treats
Treats may include a gift card for Brew by the Slough, cookies and brownies, a pizza party, layer cake, large decorated cookie, cupcakes, or fruit, nuts and trail mix.
Treats may be sent to a student, professor, friend or co-worker. These are personally prepared for any occasion.
Please allow a minimum of three business days for Augie Treat orders containing baked goods. Treats are picked up in the Gerber Center dining hall.
Contact us
If you do not wish to order online, call 309-794-7250 or fax your order to 309-794-7835. We accept Master Card, Discover and Visa.
You may pay by check or money order to: Augustana Dining Services, Augie Treats, 639 38th St., Rock Island, Ill., 61201.