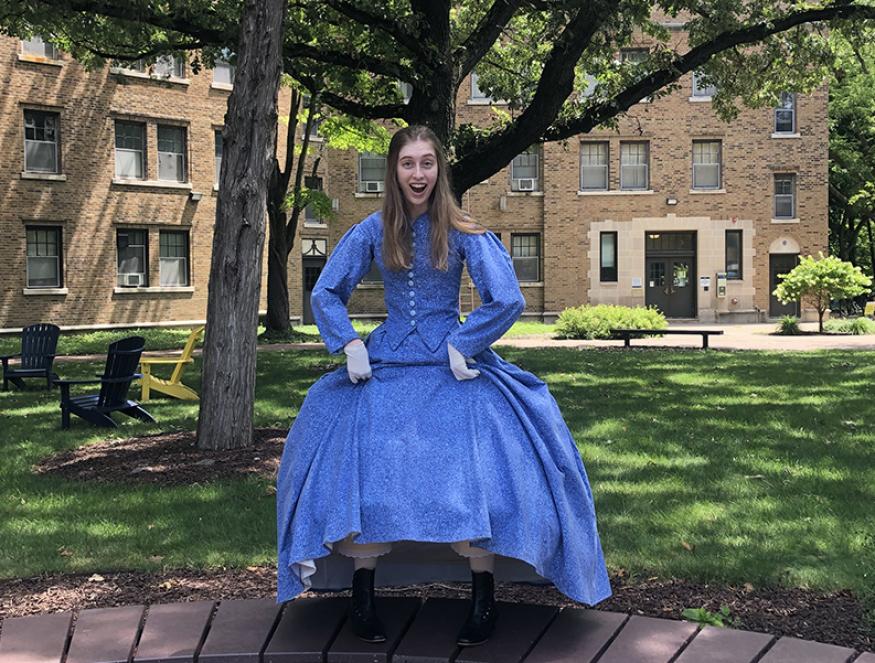 News
Hoppe '21 combines research, sewing skills in unexpected honors project
What's next? NYU's dual master's program in costume history and library science
Megan Hoppe '21 got more than a few side glances and second looks when she wore her honors project around campus last fall.
Expressing her creativity in a most original way, she researched and sewed complete outfits from 1865, 1900 and 1915, including undergarments, corsets, hoop skirts and more for her senior honors project. She also documented her experiences of wearing the outfits on campus.
"Megan knocked her interdisciplinary honors project out of the park," said Dr. Brian Leech, associate professor of history and Hoppe's history Senior Inquiry advisor.
"I trust that there are opportunities I'll have that right now I can't even imagine."
Hoppe's project aligns perfectly with her post-Augustana plans. She is interested in a dual master's program for costume history and library science at New York University. The program prepares students for positions as a subject specialist/scholar-librarian in academic and research institutions or as an archivist in libraries, museums, publishing houses, fashion companies and other institutions.
"I know that with my history major and my French and creative writing majors from Augie, I could do pretty much anything, but I am choosing to go to grad school for this specialization," said Hoppe, from Robins, Iowa. "Part of what I hope to get out of grad school is a better understanding of what I can do. Do I really want to work in a museum or would I rather...x, y or z?"
Hoppe's penchant for historical fashion goes back a long way. In third grade, she and each of her classmates were given a name of a passenger on the Titanic and asked to research that person. They set up a "Titanic museum" and dressed as their person in scenes they had created. Parents and the rest of the school were invited to tour the museum.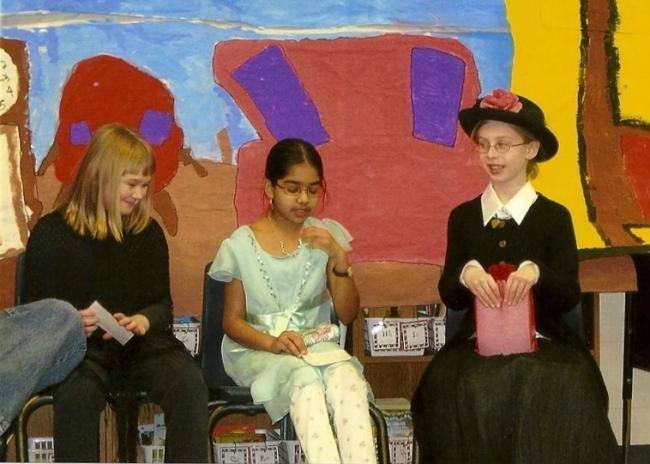 "My mom has a picture of me from that day, all dressed up in a little costume…I was way more into it than most of my classmates," Hoppe said.
Fast forward to her senior year at Augustana College: French professor Dr. Kiki Kosnick invites Hoppe to wear one of her honors project dresses and speak in French about her honors project to a class.
"I enjoyed doing that," Hoppe said. "I always feel empowered wearing these dresses because of the respect I have for the women who wore them. They were true pioneers during that time in our country's history, which was a challenging time, especially for women."
Hoppe says it wasn't difficult to find patterns for the outfits she made, but the patterns were too simple. In addition to altering the patterns to fit her size, she had to teach herself how to make collars and plackets and build the hoop for a hoop skirt.
Beginning her first year on campus, Hoppe has worked with costume designer Ellen Dixon in the theatre arts department.
"Megan is a treat," Dixon said. "She got hooked on creating and has taken flight. I will miss her as a person and as my right-hand assistant this year."
Hoppe anticipates volunteering as a costume designer in community theatre later, but now is focusing on discovering the career that best suits her. She already is a member of the Costume Society of America, which works to establish partnerships among people working in museums, archives, libraries, theatres, academia, the fashion industry, private collections and re-enactment organizations around the globe.
"The world is wide open to me," Hoppe said. "I trust that there are opportunities I'll have that right now I can't even imagine."