Alumni Association Board of Directors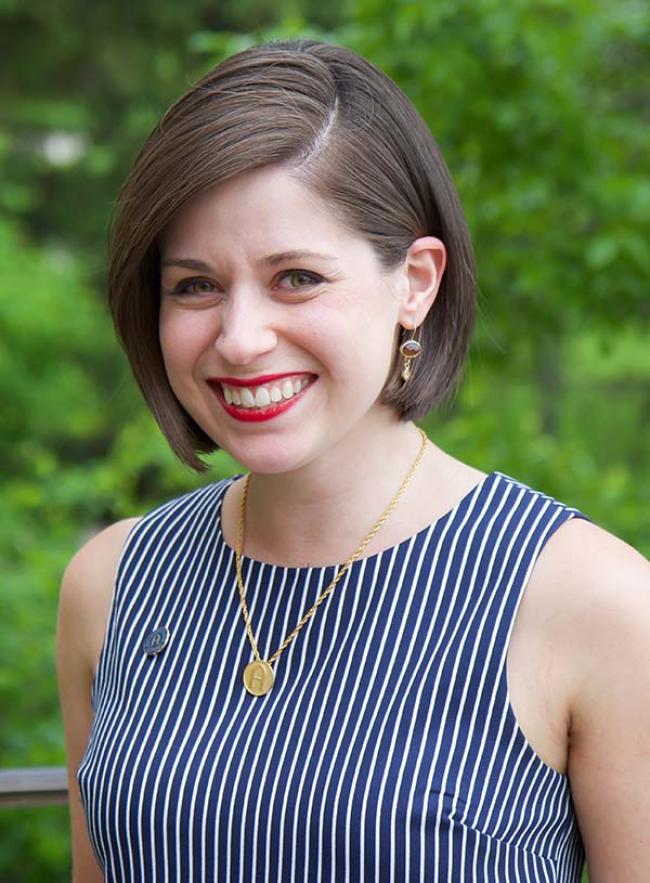 A message from board President Angie Sharp '08
The Augustana Alumni Association's Board of Directors represents YOU.
Members voluntarily give their time, treasure, and talent for three to six years and meet on campus twice a year to hear updates from our alma mater, brainstorm ideas, and work on projects/initiatives that will help students, engage alumni, and improve Augustana's mission.
Do you want to join us? Nominate yourself or someone you know who would like to be part of this special group of #LoyalVikings.
If you have any questions about the work or responsibilities of the board, feel free to email me.
Officers
| | |
| --- | --- |
| | Angie Sharp '08, president. She is a television anchor for WQAD News 8 from Moline, Ill. |
| | Jake Glimco '10, vice president. He is a marketing manager at Phoenix Leather Goods from Elk Grove Village, Ill. |
| | Hannah Sundwall '15, secretary. She is the coordinator of media services for the Chicago White Sox from Westchester, Ill. |
Members
| | |
| --- | --- |
| | Daniel Allen '87 is the global director of human resources for John Deere. |
| | Zubair Ansari '00 is the executive director of Anne Arundel Health System, Annapolis, Md. |
| | Jane Baker '72 is self-employed in medical coding in Seneca, Ill. |
| | Marlisa Barrett '19 is the outdoor dining manager at the Crow Valley Golf Club, Davenport. |
| | Lindsey Cannata '13 is a financial advisor at J.P. Cannata & Associates, Chicago. |
| | Elizabeth Choporis '02 is the former director of the center for student involvement at Roosevelt University, Chicago. |
| | Thomas Collins '72 is an insurance broker from Newark, N.J. |
| | Maliek Combs '16 is employed at Springleaf Financial Services from Rock Island, Ill. |
| | Loryann Eis '60 of Moline, Ill., is retired. |
| | Brent Ericson '96 is the assistant dean of students at George Mason University, Fairfax, Va. |
| | Zak George '08 is director of college and fair relations for StriveScan, Chicago. |
| | Patrick Hunt '02 is a senior vice president and director of operations for Radius Bank, Chicago |
| | Rich Jensen '74 is retired from service as chief counsel, Facilities, U.S. Postal Service, Washington, D.C. |
|   | Sam Latham '12 is the assistant director of strategic research and analysis at the University of Chicago School of Medicine. |
| | Sarah Lickus '06 is manager of insurance, litigation, and liability for the Boeing Company, Chicago. |
| | Julie Maring Dreixler '83 is the vice president and chief human resources officer at Graham Media Group, Chicago. |
| | Darien Marion-Burton '16 is president of D.M. Burton. |
| | Destany Metcalf '14 is a case manager at the Handicap Development Center, Davenport. |
| | Kyle Nelson '11 is an academic counselor for student athletes at the University of Minnesota, Minneapolis. |
| | Melissa Reke '11 is a community engagement leader at Thrivent Financial from Davenport, Iowa. |
| | Michael Ricaurte '93 is the global total rewards director for Cheetah Digital in Chicago. |
|   | Karen Roloff '68 is a professor at Elmhurst College from Northbrook, Ill. |
| | Vanessa Schmitt '93 is drector of specialized services, Proviso Township High School, Forest Park, Ill. |
| | Lori Spencer '73 is chief legal counsel, SE Permanente Medical Group, Atlanta, Ga. |
| | Greg Stopka, '07 is a strategy and innovation manager for the Park District of Oak Park, Ill. |