The long-awaited re-creation of the Bergendoff Hall of Fine Arts has begun. This first phase of the project will include rehearsal space, offices and classrooms and a seminar room. 
The highlight of the project will be the Julie Hamann '82 Elliott Performance Hall, a 2½ story, intimate performance and recital space for 50-60 patrons. The expected completion date is this December.
Meanwhile at Lindberg...
There is no mistaking where you are when you enter the new Peter J. Lindberg, M.D., Center for Health and Human Performance. The $18 million Lindberg Center — on schedule to be finished in 2021 — will be used to prepare graduates for health-related careers in kinesiology or public health.
It also will house an aquatic center and natatorium.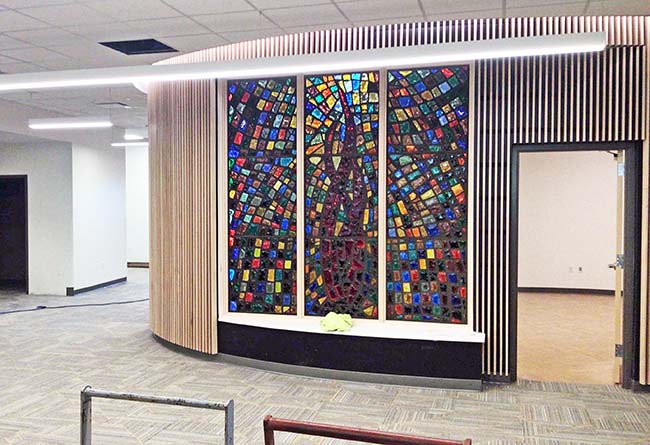 Last month, stained glass was installed in the Meditation Room inside the new Lindberg Center. Entitled "The Living Flame," it was the centerpiece of the Dag Hammarskjöld Room in the Student Union from 1960-1979. That room also was known as the Meditation Room, but was renamed to honor the memory of the Hammarskjöld, the  Swedish U.N. secretary general who was killed during a peace mission in 1961.
The stained glass work was commissioned from Egon Weiner, a prominent Chicago artist and friend of Conrad Bergendoff, Augustana president at the time. There are at least two other works by Weiner on campus: the cross outside Ascension Chapel and the bust of Conrad Bergendoff in the entry vestibule of Centennial Hall.
When the College Center (now the Brunner Theatre Center) opened in 1979, the Student Union became the Biology Building and "The Living Flame" went into storage — until now.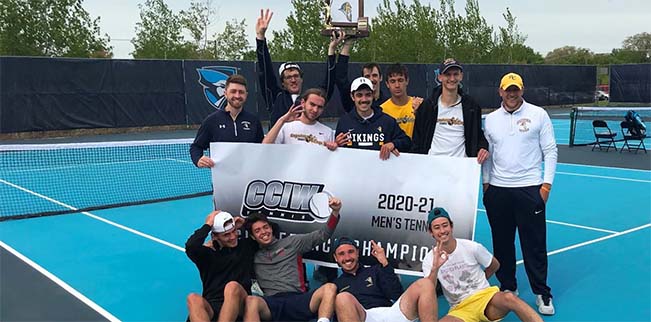 • The men's tennis team won its third CCIW conference title in the last four years in May! The Vikings were CCIW champions in 2017-18 and 2018-19 before COVID fears scuttled last year's tournament.
• Six graduating seniors were selected for the Teaching Assistant Program in France this fall — our biggest group ever. They will be teaching English to French students and living in the country for seven months. 
• The Class of 2025 — applying to college during closures and quarantines — has already has set new levels of diversity for Augustana.
• Thanks to support from Julie Elliott '82, works from the Augustana Teaching Museum of Art's Sam and Ann Charters Collection of Swedish Art will be exhibited in New Castle, Pa.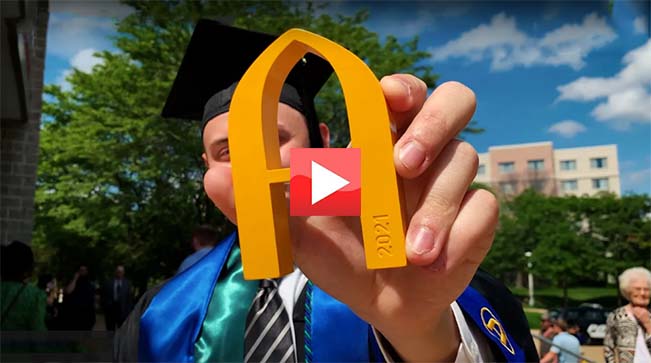 'Some days are meant for celebrating. And this is one of those days.'
— Dr. Emily Landon '99
300 members of the Class of 2020 returned on May 23 for the graduation ceremony they had to miss last year.
And the Class of 2021 finished Augie Strong with not one, but two commencement ceremonies due to COVID-19 precautions.
Trustees give $50 in each graduate's honor
Select members of the Board of Trustees collectively donated sufficient funds to make a $50 gift to Augustana on behalf of every member of the graduating classes of 2020 and 2021.     
Save the date
June 16 — Racial healing circle for alumni led by Michael Rogers '12 and Jack Cullen '13.
Mississippi Bend Players, Brunner Theatre (in-person shows)
June 17-20 – "Red"
June 24-27 – "Mary and Ethel: How I Learned to Sing"
July 8-11 – "No Child…"
Performance descriptions and tickets.
Sept. 18-19 — Family Weekend
Oct. 1-3 — Homecoming (in-person reunions for classes ending in 10s, 5s, 1s and 6s, if state guidelines allow).
Right now, we're planning for an in-person Homecoming 2021 with reunion dinners, football, Oktoberfest, tours of the new Lindberg Center and more. We look forward to seeing you and your classmates on campus again. Tentative schedule and hotels with discounts.
Taking a month off
We'll give your inbox a rest in July but the e-news will return in August with twice as many Class Notes!