The blue lights on the Old Main dome turned gold New Year's Eve as we surpassed the $125 million goal for the AUGUSTANA NOW campaign.
The total raised in the campaign was announced as $133,662,743.
President Steve Bahls recalled wondering, when the campaign kicked off in 2018, if it could succeed.
"I knew we could because we're backed by Augustana alumni and friends," he said. "$125 million is a landmark campaign, but what does $125 million mean to Augustana? It means something for our students each and every day.
"It's touched every student. It's touched every faculty member. It's touched every program at Augustana College and for that we are eternally grateful."
The campaign received some 83,000 gifts from more than 13,000 donors. (more)
We will celebrate the life and legacy of Dr. Martin Luther King Jr. with a virtual keynote by Ken Nwadike Jr. at 10:30 a.m. Jan. 18.
He is a peace activist and motivational speaker known as the Free Hugs Guy online, and the founder of the Free Hugs Project to inspire change.
He has made many appearances on broadcasts worldwide and has spoken at hundreds of colleges and universities. During the pandemic Nwadike has kept up his work by connecting on social media.
Alumni are encouraged to join the celebration. → Register to receive a link to Nwadike's virtual keynote.
Music students aren't able to perform for an audience due to COVID-19, but in some ways this has caused them to look at music with fresh eyes. (more)
Construction of the Peter J. Lindberg, M.D., Center for Health and Human Performance, is on schedule to be finished in mid-May.
The center will house kinesiology and  public health, plus a new natatorium. Photo gallery
Campus news
• Schools in our athletic conference are continuing to plan for winter sports competition late this month, if conditions allow.
• More than 2,100 students are participating in 114 class sections in January term, starting this week. One instructor is named Steve Bahls.
• Augustana is launching the TRIO Scholars Program to bolster the academic, graduation and career success of students. Supported by a $1.3 million federal grant, the five-year program will assist low-income and/or first-generation students, and students with disabilities.
"Augustana College has long provided transformative educational experiences. At the same time, we recognize the need to provide the proper support to those students who undeniably face steeper barriers to success," said Dr. Kristin Douglas, associate dean.
• The federal 2020 Open Doors report ranks Augustana as 24th among baccalaureate colleges for the number of international students, up from 26th. Our student body is 12% international students, up from 3% in 2015.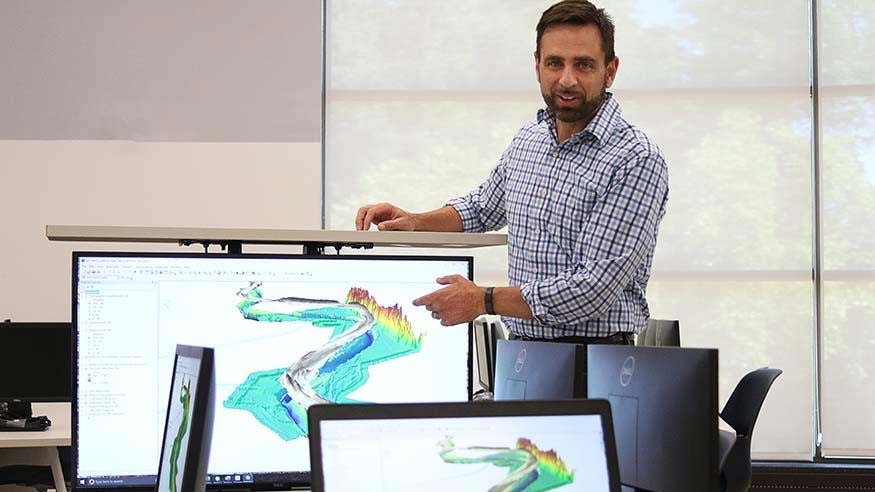 New geospatial science minor not just for science majors
Augustana will offer a new experiential minor in geographic information science and technology beginning this fall.
"When you look at the location services of smartphones, you can see the digital maps that have become part of our everyday lives, and behind all of these services are geospatial technologies such as GPS, remote sensing, and more recently, drone mapping," said Dr. Reuben Heine, geography professor. (more)
Enjoy these latest class notes, including marriages, births, awards and more.  
Save the date
Jan. 18 Dr. Martin Luther King Jr. celebration with a virtual keynote by Ken Nwadike Jr. Register
Jan. 20 Pandemic Perspectives: Dr. Emily Landon '99, associate professor of medicine and executive medical director, infectious disease prevention and control, at University of Chicago Medicine, and Dr. Dara Wegman-Geedey, professor of biology at Augustana, will talk about "The Science Behind the Pandemic." Register
May 23, 2021 Commencement for the classes of 2020 and 2021
Sept. 18-19 Family Weekend
Oct. 1-3 Homecoming
(This email was sent by Augustana College, 639 38th St., Rock Island, Ill., 61201. If you would prefer not to receive email to {%%email%%} from Augustana College, click here. Please allow 3-5 business days.)