Augustana College Women's Weekend
June 2-4, 2023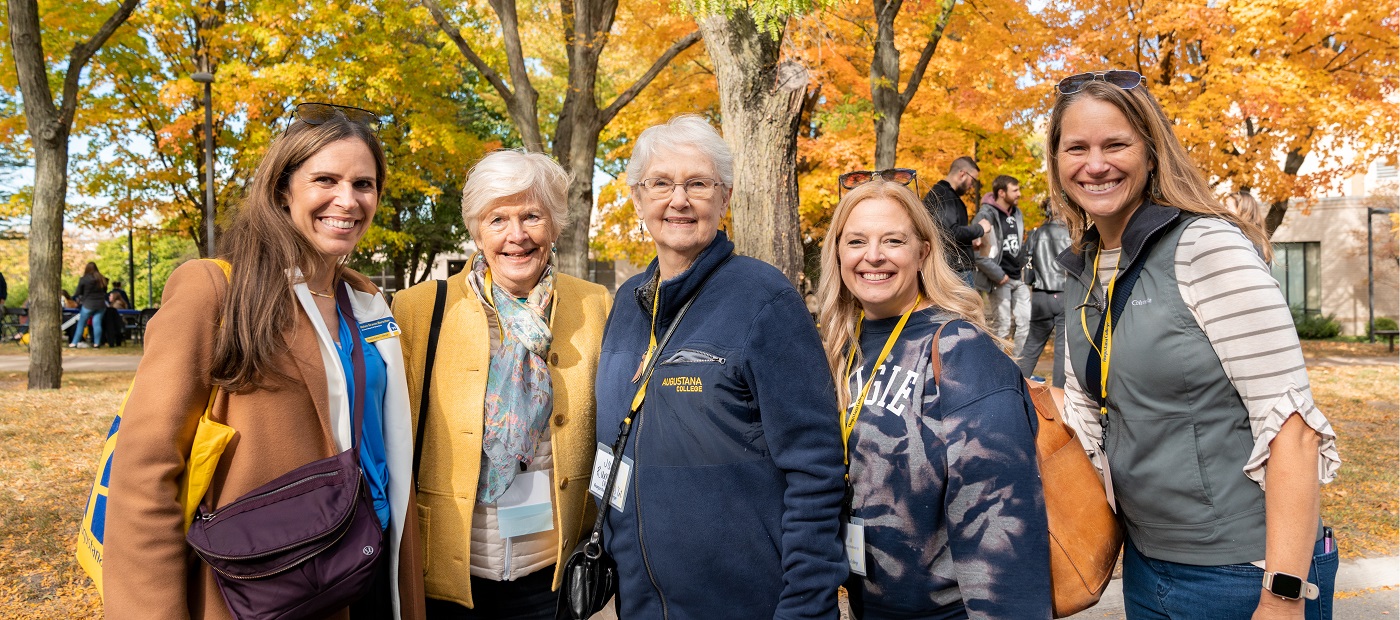 Thank you for your interest! Registration has now closed.
---
Join us for an exciting growth-filled weekend with fellow Vikings, focused on living a life with purpose. Invite your friends — registration is open to everyone!
Highlights
Sessions by Augustana alumni, faculty and staff, including various growth-focused sessions
A book discussion on "Just Mercy" by Bryan Stevenson
Wellness opportunities
A wine tasting and outdoor dinner with keynote speaker Nelly Cheboi '16, CNN Hero of the Year and founder of TechLit Africa
A meet and greet with President Andrea Talentino
Cost
Registration is $125 and includes all meals, a T-shirt and a welcome gift. $25 of your registration will go to fund a scholarship for an incoming female first year student. Registration does not include lodging or the selected reading for the book discussion.
Lodging
Augustana has a limited hotel block at the Element in downtown Moline for $108 per night. Call 309-517-1659 and use the code "Augustana College Women's Retreat" for the discount.
A special rate is also available at the Holiday Inn in downtown Rock Island for $96 per night. Call 844-207-8624 and use the code "Augustana College" for the discount.
Full schedule
Please note that the ice cream break, book discussion and dinner have been moved inside due to heat. Please see the schedule of events for updated locations. 
Friday, June 2, 2023
6-7 p.m. Check-in
Brew by the Slough, Gerber Center for Student Life, fourth floor
7-9 p.m. Wine tasting reception with Marlisa Barrett '19, certified sommelier and owner of Swirl Wine Bar; appetizers and wine samples provided
Brew by the Slough patio
Saturday, June 3, 2023
7:30 a.m. Mindful Movement yoga session with Dr. Lena Hann, associate professor of public health; yoga mats available upon request. 
Viking Plaza
Description: Mindful Movement uses gentle yoga, mindfulness, and breathwork to help participants increase energy, decrease stress, and achieve peace and relaxation. Research shows that integrating simple movement and breath techniques into your day can boost mood and improve quality of life. Dr. Lena Hann, PhD, MPH, RYT-300 is an associate professor of Public Health at Augustana College, with faculty affiliations in Women, Gender, and Sexuality Studies and Scandinavian Studies. She is also a registered yoga teacher with specialized training in meditation and breath. Lena owns her own small yoga studio, Arrive Yoga & Breathwork, and has taught yoga to hundreds of people in the Quad Cities and all over the world. Join us to align your mind, body, and breath, and take home some de-stressing tips for life off the mat.
8-9 a.m. Check-in (for participants who have not already checked in)
Gerber Center for Student Life, Gävle fireplace
8 a.m. Breakfast
Gerber Center for Student Life, Gävle room
9:15 a.m. Welcome by President Andrea Talentino
Gerber Center for Student Life, Gävle room
9:30 a.m. Living the Good Life: Insights From Psychology, presented by Dr. Jessica Schultz, associate professor of psychology
Gerber Center for Student Life, Gävle room
11 a.m. Break; pick up a snack outside the Gävle room
Gerber Center for Student Life
11:15 a.m. (pick one)
Option 1: Taking a Breath: Coming Home to Ourselves, presented by Dr. Pat Shea, facilitator for strengths-based engagement
Brew by the Slough, Gerber Center for Student Life, fourth floor
Option 2: Historical campus tour with Kai Swanson '86, special assistant to the president
The tour will depart from the Gävle room in the Gerber Center for Student Life and will end in the Quad. Golf cart transportation available for those with mobility issues
1 p.m. Lunch with featured speaker Dr. Cheryl True '90, MD, DipABLM, FACLM
Peter J. Lindberg, M.D., Center for Health and Human Performance
2:45 p.m. (pick one)
Option 1: Callings Over the Course of Your Life, presented by Jason Mahn, director of the Presidential Center for Faith and Learning and Conrad Bergendoff professor in the humanities
Brunner Theatre Center
Option 2: Models, Mentors and Mavericks: Augustana Women Whose Lives Shaped Ours, presented by Dr. Ann Boaden '67, professor emerita of English
Carlsson Evald Great Hall
3:45 p.m. Whitey's Ice Cream break
Brew by the Slough
4 p.m. "Just Mercy" book discussion, presented by Dr. Monica Smith, vice president of diversity, equity and inclusion
Brew by the Slough
6 p.m. Evening reception; appetizers and drinks included. Remarks by President Andrea Talentino at 6:30 p.m.
Gerber Center for Student Life, Gävle fireplace
7 p.m. Dinner with keynote speaker Nelly Cheboi '16, CNN Hero of the Year and founder of TechLit Africa
Gerber Center for Student Life, Gävle room
Sunday, June 4, 2023
10 a.m. Sunday worship with pastor Melinda Pupillo, campus chaplain and director of spiritual development
Ascension Chapel
11 a.m. Brunch
Founders Courtyard