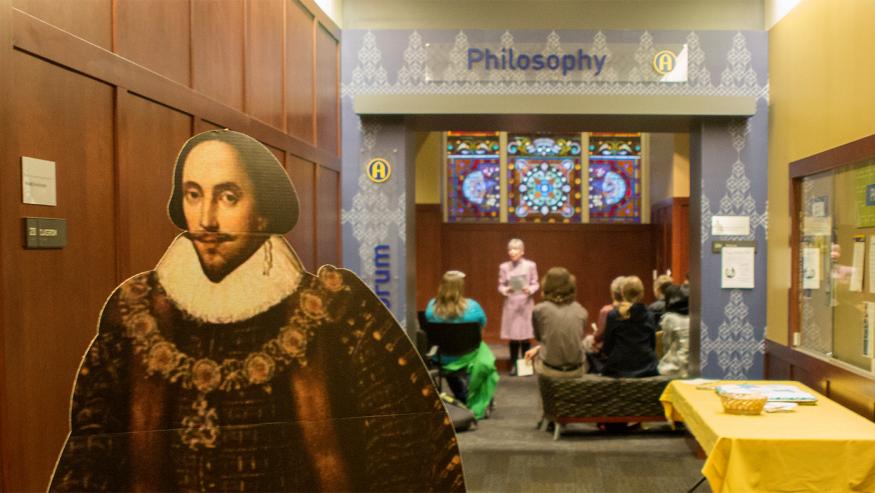 News
Humanities grads: successful and happy
As a liberal arts college with close mentors, small classes and individualized research opportunities, Augustana offers support to humanities students with varying interests and skillsets. Recent findings from the American Academy of Arts & Sciences have shown that not only do these graduates lead successful careers—they're some of the happiest, too.
Below are a few common jobs listed by major to illustrate the possibilities for humanities majors. Please note that many of these positions require graduate school, and average salaries may be higher or lower based on geographical location and experience. Salary data comes from Glassdoor, Payscale, Trade-Schools.net, U.S. Bureau of Labor Statistics and U.S. News & World Report.
Art History 
A degree in art history is an asset in our increasingly visually oriented society. Along with knowledge of the artistic heritage of cultures around the world, art history majors develop the skills and analytical strategies that work well in such careers as:
•  Museum Curator, typical salary range: $37,000–$99,500
•  Art Conservator, typical salary range: $32,000–$81,000
•  Museum Registrar, typical salary range: $31,000–$66,000
•  Marketing Manager, typical salary range: $39,000–$103,000
•  College Professor, typical salary range: $38,000–$93,000
•  Lawyer, typical salary range: $57,000–$208,000
Notable art history majors:
Victoria Gardner Coates – Senior Director for Strategic Assessments, National Security Council
Steve Ells – founder and former CEO of Chipotle Mexican Grill
Jake Hooker – journalist and Pulitzer Prize winner for investigative reporting
Geraldine Laybourne – entrepreneur in media and technology (including Nickelodeon, Obygen Media and Katapult)
Donald Judd – artist
James B. Lee – investment banker, former vice-chairman of JP Morgan Chase & Co
Meghan McCain – columnist, author and blogger
Megan Mullally – actor
Abigail Pierrepoint Johnson – President and CEO of Fidelity Investments, chairman of Fidelity International, and one of the world's wealthiest women
Eddie Redmayne – actor
Classics
While some Classics majors go on to graduate school for Classics, Greek or Latin, and/or teaching, many pursue careers from business to law to medicine. As a matter of fact, The Princeton Review reports that Classics majors and double-majors have a higher success rate of getting into medical school than students who focus on biology only, according to the Association of American Medical Colleges. Further, Classics majors (along with mathematics majors) have the highest success rates of any majors in law school. 
Notable Classics majors:
Jane Addams – activist and social worker
James Baker – former Secretary of State
Jerry Brown – governor of California
Sigmund Freud – psychologist
Chuck Geschke – founder of Adobe systems
Chris Martin – lead singer of the band Coldplay
Lindiwe Mazibuko – South African politician and former Parliamentary Leader for the opposition Democratic Alliance
J.K. Rowling – author of the Harry Potter books and phenomenon
Lynn Sherr – ABC News correspondent for "20/20"
Oscar Wilde – playwright and poet
English
The Internet and social media are creating more job opportunities than ever before. If you have a way with words, check out some of these career paths:
•  Editorial Director, typical salary range: $59,000–$133,000
•  Editor-in-Chief, typical salary range: $42,000–$141,000
•  Proposal Manager, typical salary range: $53,500–$111,500
•  Web Developer, typical salary range: $38,500–$85,000
•  Technical Writer, typical salary range: $40,000–$84,500
Notable English majors:
Katie Couric – TV news anchor
Matt Damon – actor
Stephen King – author
Toni Morrison – author
Hank Paulson – former CEO of Goldman Sachs and former Secretary of the Treasury
Sally Ride – astronaut
Steven Spielberg – film director
Clarence Thomas – Supreme Court justice
Harold Varmus – Nobel Laureate in medicine
Emma Watson – actress
History
There is always more to learn. If you enjoy research, discovery and sharing your findings, take a look at these career possibilities:
•  Archivist, typical salary range: $30,000–$88,000
•  High School Teacher or College Professor, typical salary range: $38,000–$93,000
•  Librarian, typical salary range: $34,000–$72,000
•  Museum Curator, typical salary range: $37,000–$99,500
•  Research Analyst, typical salary range: $39,000–$88,000
Notable history majors:
Kareem Abdul-Jabbar – NBA player
Joe Biden – former vice president of the U.S.
Steve Carell – actor
Winston Churchill – former prime minister
Eric Holder – former U.S. Attorney General
Chris Hughes – co-founder of Facebook
Lee Iacocca – former CEO of Chrysler
Samuel Palmisano – former CEO of IBM
Sonia Sotomayor – Supreme Court justice
Susan Wojcicki – YouTube CEO
Philosophy
According to the Association for Talent Development, critical thinking is an important skill required of future leaders. If you're a philosophy major, here are some ways you can put your knowledge to use:
•  High School Teacher or College Professor, typical salary range: $38,000–$93,000
•  Human Resources Specialist, typical salary range: $32,000–$101,000
•  Lawyer, typical salary range: $57,000–$208,000
•  Market Research Analyst, typical salary range: $34,000–$121,500
•  Sales Manager, typical salary range: $56, 000–$208,000
Notable philosophy majors:
William Bennett – Secretary of Education and head of the Drug Enforcement Agency
Philip Glass – composer
Michael McCaskey – owner of the Chicago Bears
Rashida Jones – actress
Gerald Levin – CEO of Time-Warner, Inc.
Martin Luther King Jr. – civil rights activist
Pope John Paul II – vicar
Steve Martin – actor
Susan Sarandon – actress
Pierre Trudeau – former Canadian prime minister
Religion
The world needs more empathy, compassion and a sense of deeper meaning. If you want to use your strengths as a religion major, check out these career options:
•  Clergy, typical salary range: $34,000–$80,000
•  Lawyer, typical salary range: $57,000–$208,000
•  Museum Curator, typical salary range: $37,000–$99,500
•  Social Worker, typical salary range: $32,750–$80,000
•  Youth Director, typical salary range: $18,000–$48,000
Notable religion majors:
Shane Battier – NBA player
Mayim Bialik – actress
Edward Braxton – Bishop of the Diocese of Belleville, Ill.
Christy Turlington Burns – model
David Chang – restaurateur and founder of the Momofuku restaurant group
Maggie Gallagher – writer, columnist, president of the Institute for Marriage and Public Policy
Maggie Gyllenhaal – actress
Willard Scott – television personality
Richard Searer – former president of Kraft Foods, Inc.
Nick Thoman – Olympic gold medalist
By Rachel Reiter '18, Writers Bureau