News
Snapshots from Celebration of Learning
Nearly 200 Augustana students and faculty participated in the annual Celebration of Learning May 2. It was a day of art and science, presentations in nearly every discipline, poster presentations, multimedia interactive sessions and performances. Here are a few of those.
Crisscrossing the country in her Chevy Cobalt
Sports business executive Erin Blecha-Ward '07 returned to campus Wednesday to share her very non-linear journey with students. More than once, Blecha-Ward loaded up her Chevy Cobalt and crisscrossed the country … for graduate school, to move back in with her parents, and to follow job offers that sometimes worked out. Rather than linear, hers was more of a shuttle run, but with a strong finish.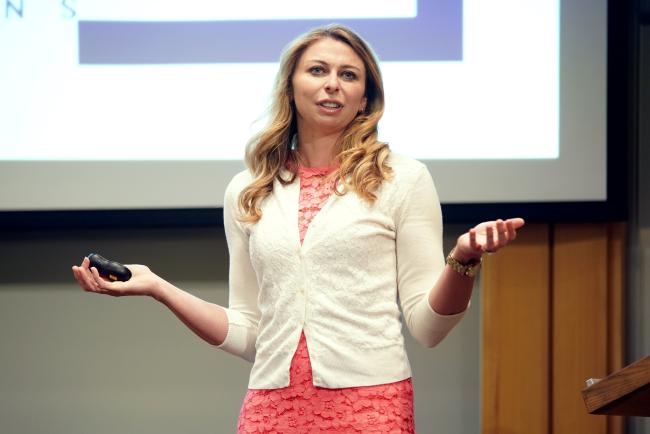 Today, Blecha-Ward is the founder/president of Evolved Experience Solutions in California, working with premier sports organizations around the country to evaluate and elevate fan experiences. With her background in communication and psychology, and a focus on research and the behavior of sports consumers, Blecha-Ward uses data and analytics in the work she does.
Blecha-Ward offered these tips to students for finding success in life after Augustana: When someone asks who can help, raise your hand. Sometimes you have to work for free. Don't be afraid to be uncomfortable. Treat others well, especially on the way up.
As Blecha-Ward noted, "The Road Not Taken" by Robert Frost illustrates her story: "Two roads diverged in a wood, and I — I took the one less traveled by,
 And that has made all the difference."
She encouraged students to be fearless in making and accepting opportunities during their own journeys.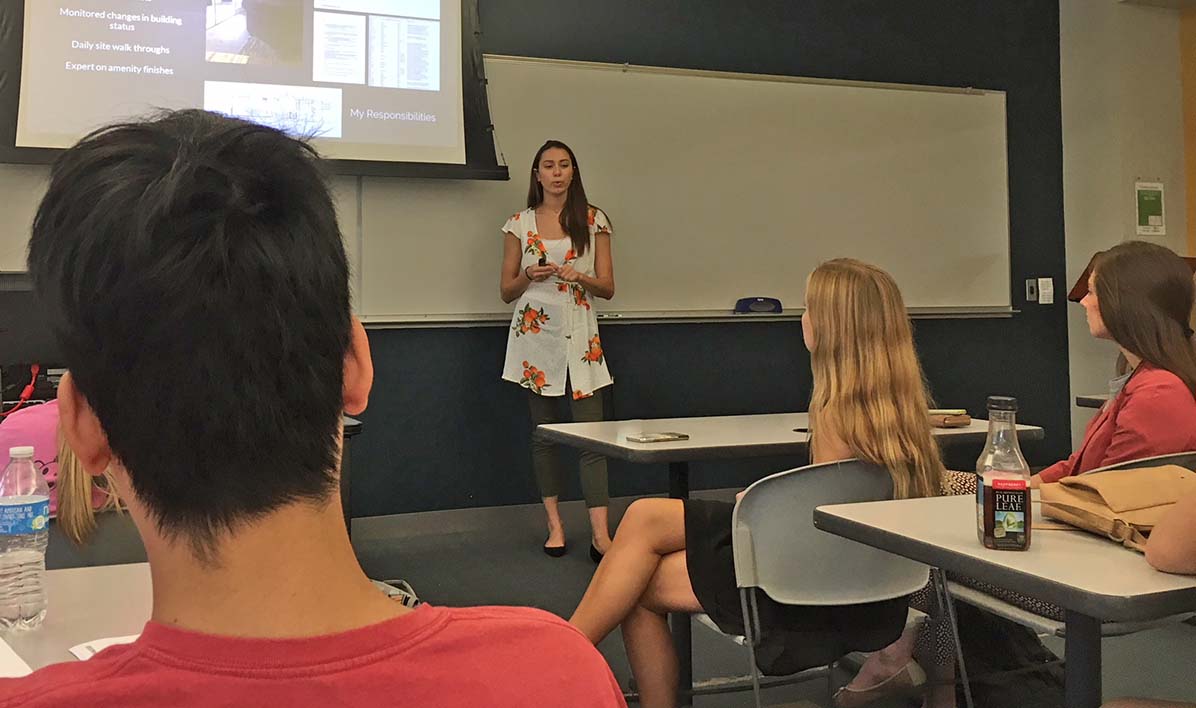 A pinnacle in Houston
Engineering physics major Gabrielle (Gabby) Gambino Lyon '18 presented on her internship at the construction site of The Catalyst, a high-rise luxury apartment building in Houston. At the Catalyst site, Lyon gained firsthand experience working alongside project engineers, developers and the construction team.
She joined meetings between Ziegler Cooper Architects and Pepper Lawson Construction reps; studied the construction drawings "endlessly"; made daily walk-throughs called "punch walks," in which she noted flaws to address; and became what she described as the "resident expert on amenity finishes."
One of her proudest moments was being asked to add her signature to the final, symbolic beam hoisted to the top of the 28-floor building.
"It was the pinnacle of my time there," she said.
Another moment was when she returned to see the completed building, and discovered that a design she'd drawn of the pool deck had become essential to the final design. "The Gabby Drawing" was still hanging on a wall.
In the future, Lyon wants to work in sustainable construction and green buildings. Her immediate plans? After graduation, she'll begin a job as a field engineer with Webber Construction in Houston — and living in an apartment in The Catalyst!
Lyon's advisor was Dr. Lee Carkner.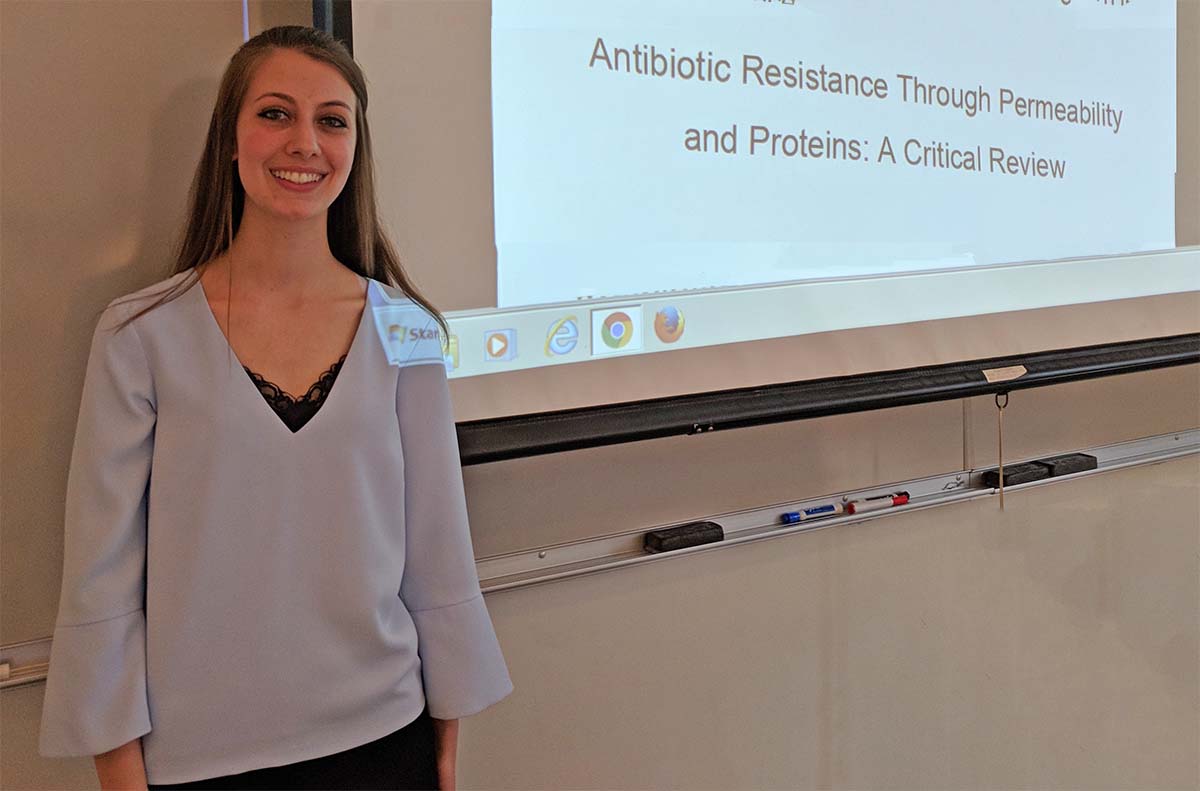 How bacteria evade antibiotics
About 23,000 people die in the United States every year as a result of antibiotic resistance. With this statistic, Francesca Scribano got the attention of those at her presentation, "Antibiotic Resistance Through Permeability and Proteins: A Critical Review" right away.
Most people probably have heard of antibiotic resistance but may not know that bacteria have more than one way to nullify the drugs. There are at least three ways, Scribano explained: porins (essentially pores in the cell that stop letting antibiotics in); proteins that bond with antibiotics less effectively over time; and special enzymes that can break the chemical structure of the drug.
Scribano said more research is needed into each of these resistance pathways to allow for a more "rational" design of antibiotics and integration of bacteria-specific results. She also said that taking antibiotics out of use for a time and rotating treatments can reduce resistance.
Scribano is a senior biochemistry major from St. Charles, Ill. Her project advisors were Dr. Patrick Crawford and Dr. Gregory Domski.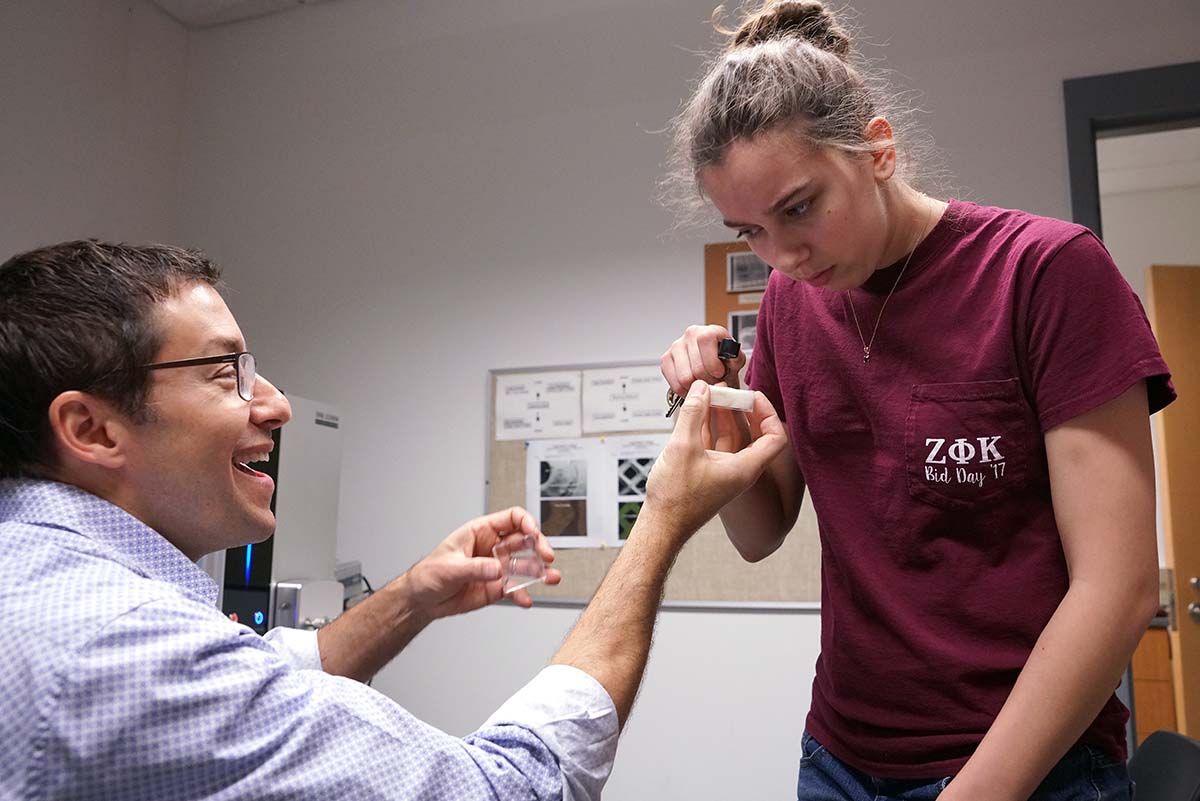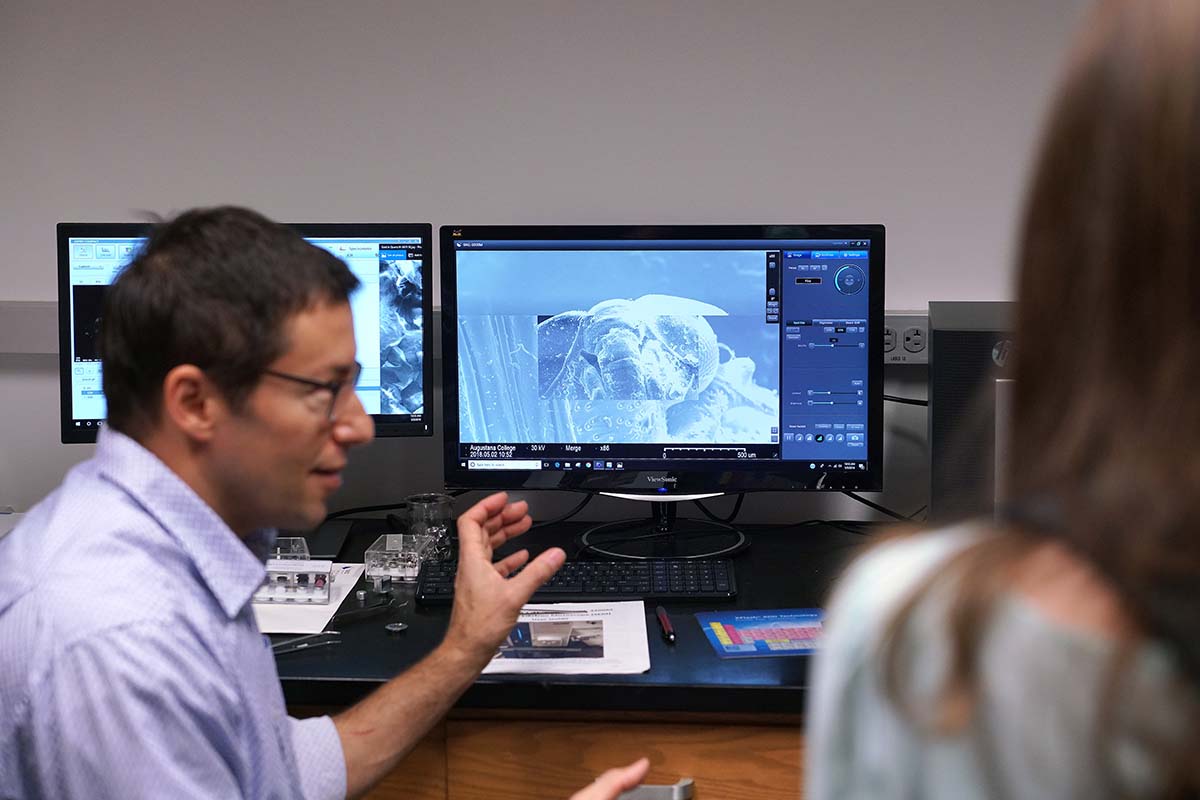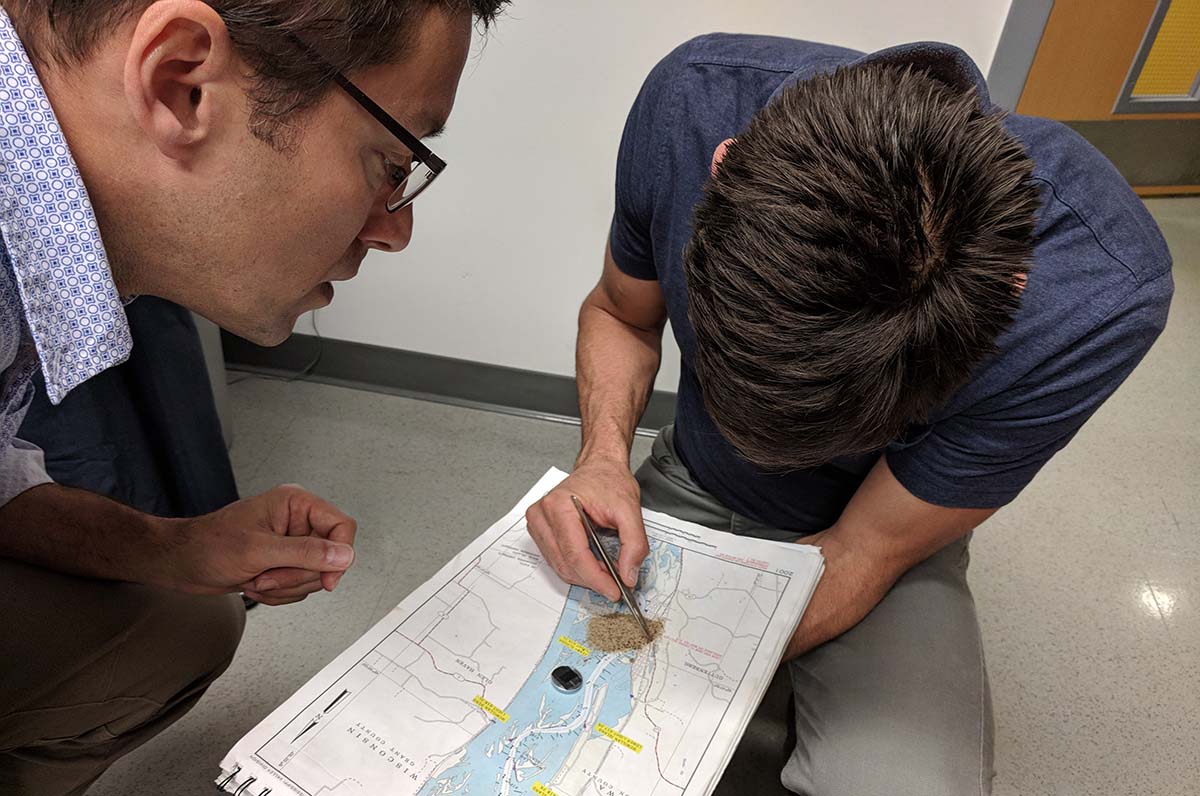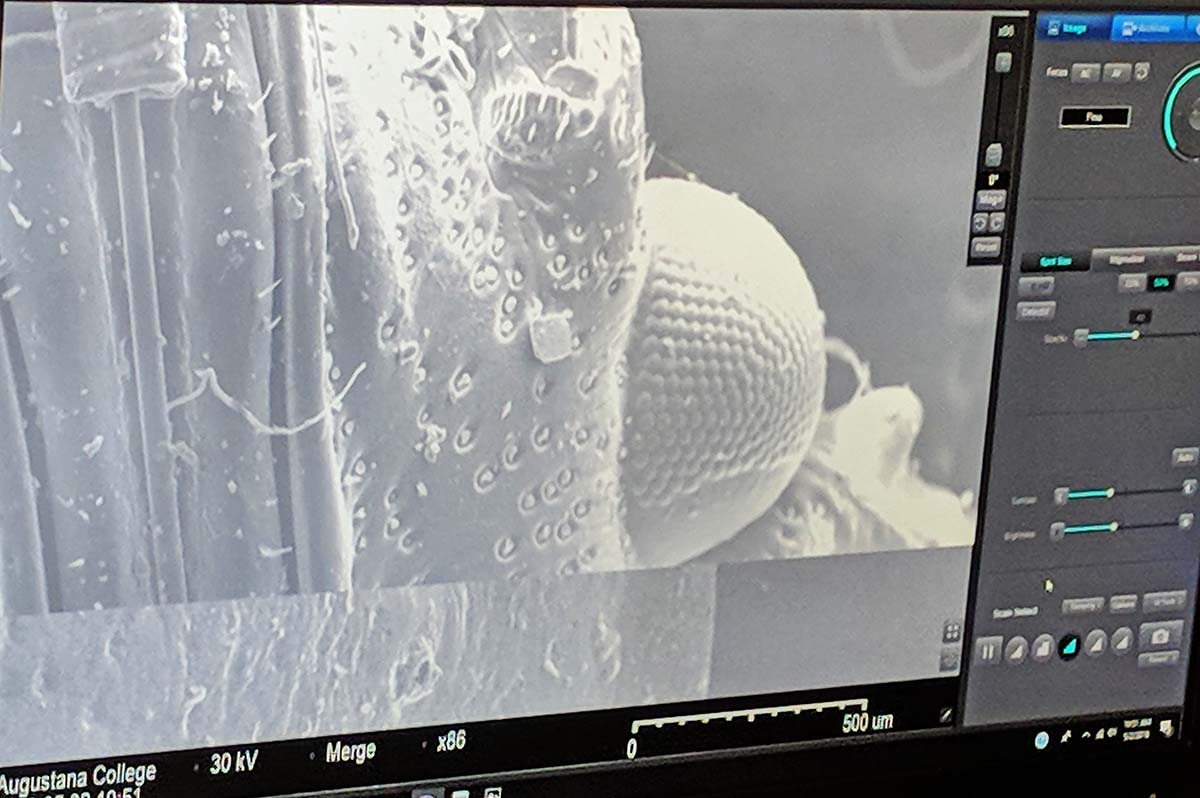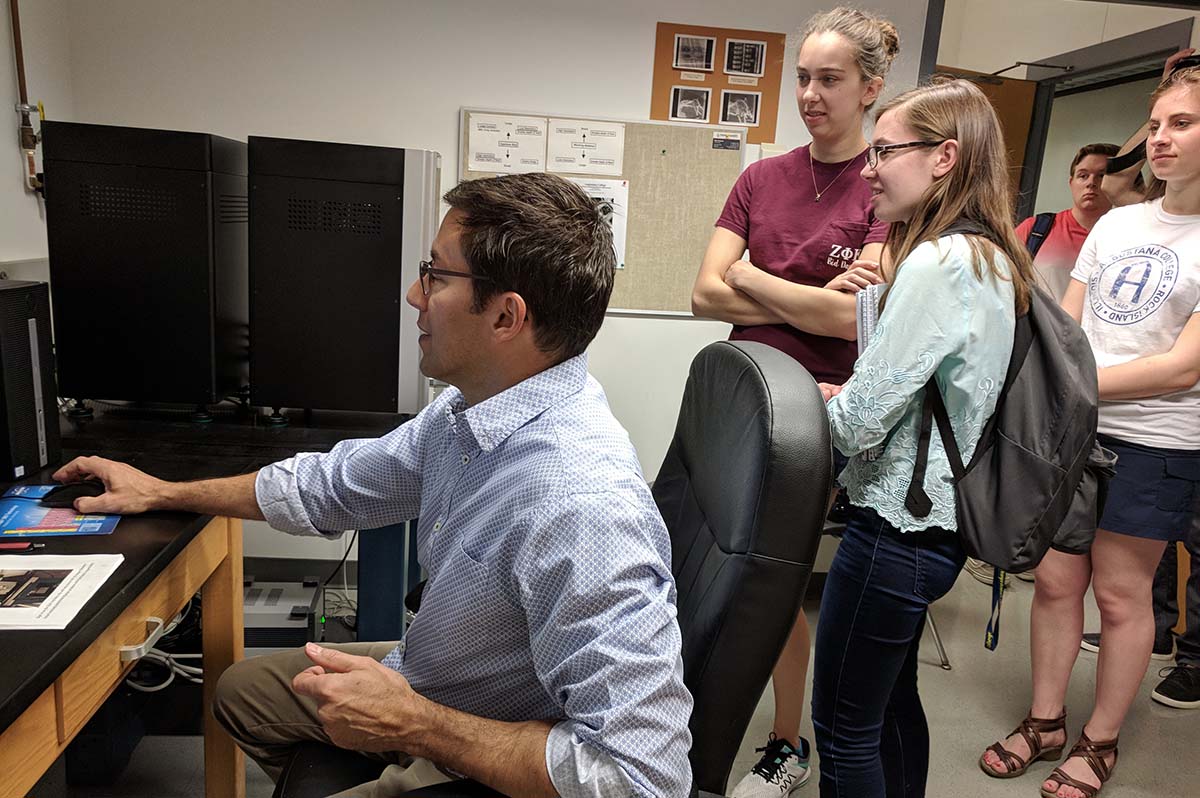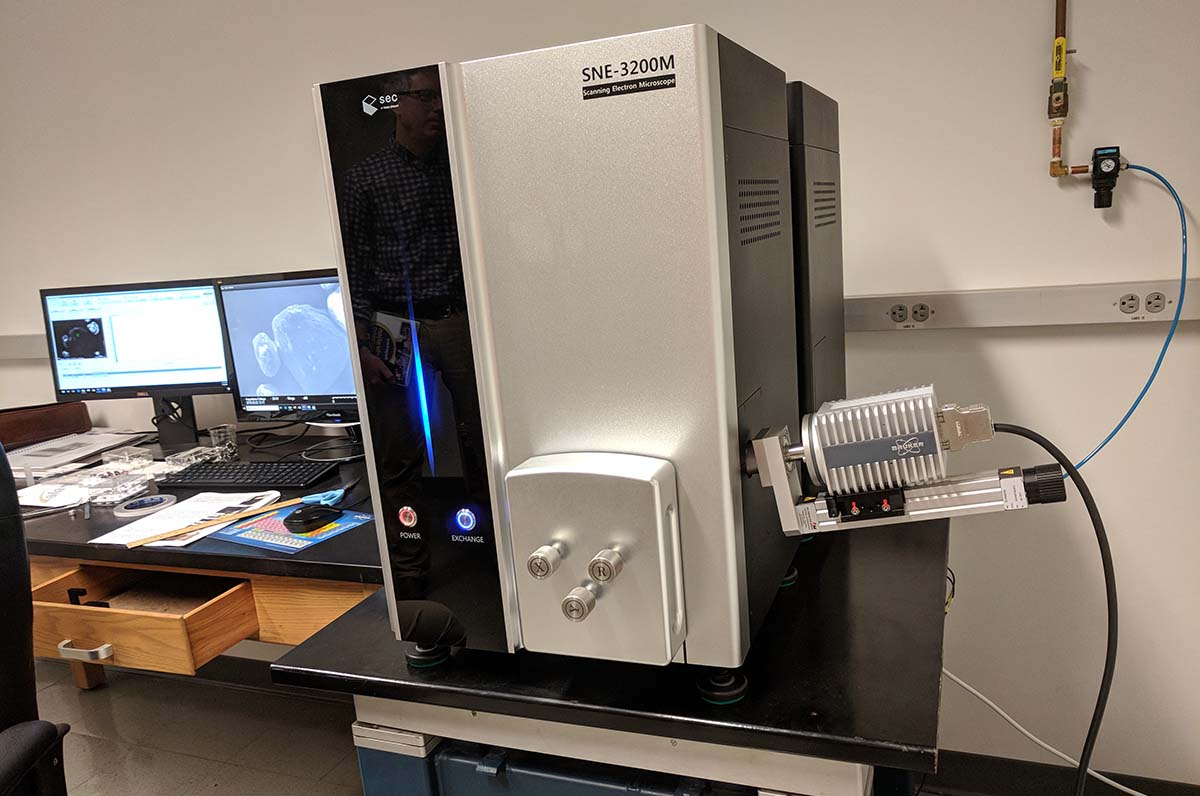 Peering into the tiny world
Geology's Dr. Michael Wolf showed off Augustana's new scanning electron microscope (SEM) using samples of his own and items brought in by observers.
The Mini-SEM SNE 3200M, which is about the size of a dorm refrigerator, replaced an older machine that took up half of a small room in Hanson Hall. 
It can magnify up to 60,000 times, and can "see" objects of only a few micrometers. (A coat of paint is about 100 micrometers.)
On Wednesday, Dr. Wolf's fascinated audience looked at various minerals, fungus, insects, river sand and a tiny mollusk shell.
The shell had a tiny hole in it, about the size of a pinprick. Dr. Kelsey Arkle identified it as an opening made by a predatory snail. When Dr. Wolf magnified the hole to about the size of a dinner plate on the SEM screen, she was able to identify the predator as a moon snail, based on the shape of the hole.
The SEM also can analyze the composition of objects using energy-dispersive X-ray spectroscopy. Students in minerology and other classes use this feature to identify samples. Students in physics labs, petrology and other geology courses use the SEM.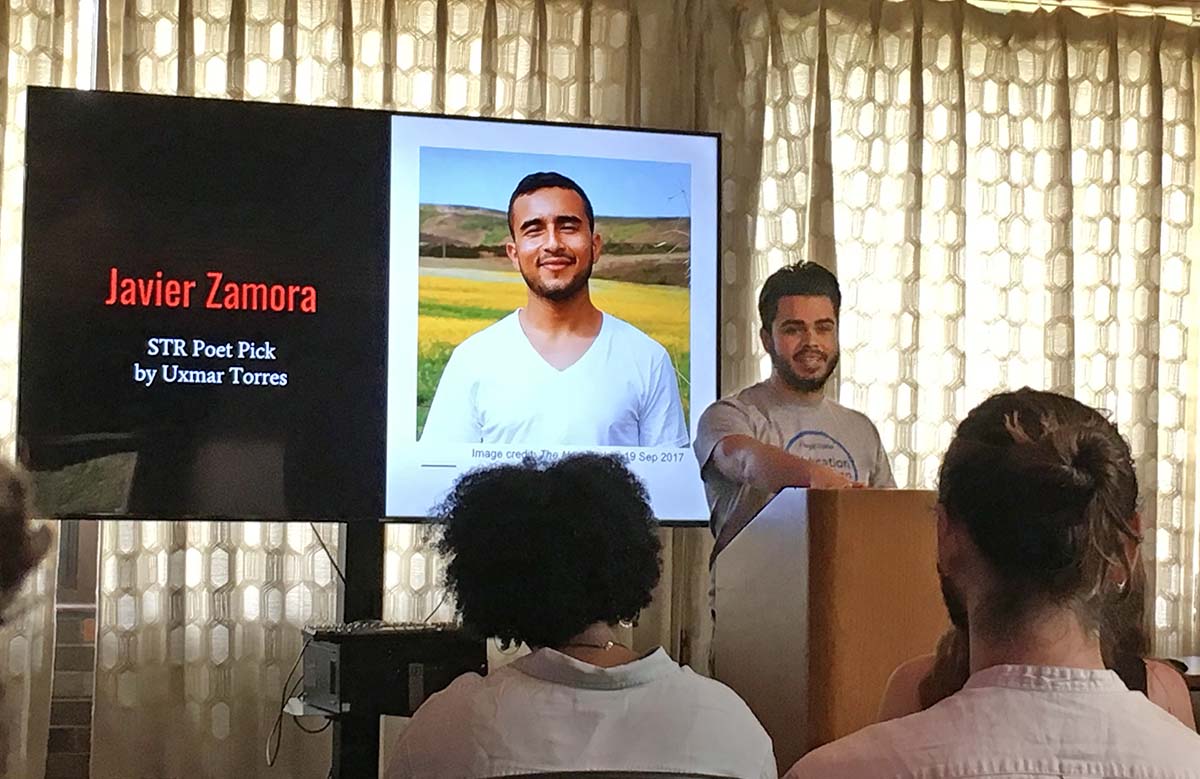 The power of poetry
In April, Farah Marklevits, assistant director of the Reading/Writing Center, and Astrid Tello-Rodriguez '13, assistant director of the Office of Multicultural Student Life, accompanied seven students to the 10th annual Split This Rock Poetry Festival in Washington, D.C. 
Described as honoring and presenting "poems of provocation and witness," the festival explored the power of poetry to affect social change.
Students discovered poetry expressing "anger, frustration, sorrow, power, beauty and love," Tello-Rodriguez said. They met poets who created work focusing on social injustice.
At Celebration of Learning, the students introduced and read a poem by a poet whose work they admired, and then read an original poem they had written in response. 
For creative writing major Uxmar Torres '18, that poet was Javier Zamora, who had crossed the border from Mexico into the United States at age 9, and by himself.
Torres read Zamora's poem, "To the President Elect," which references the journey Zamora made as a child. Torres then read his response poem, which paralleled some of Zamora's wording and "the ways he was construing his journey."
From Torres' poem: "The reason you saw no one running away is because they already got away, or they didn't. You must have blinked."
He described the trip to Split This Rock as a highlight of his Augustana experience. It was validating to him, he said, "as a poet, as a writer, as a person of color. It was a very beautiful artistic community."
The art of being a senior
The Augustana Teaching Museum of Art's final exhibition of the academic year is the 2018 Senior Show. On Wednesday, the artists were on hand to talk about their work.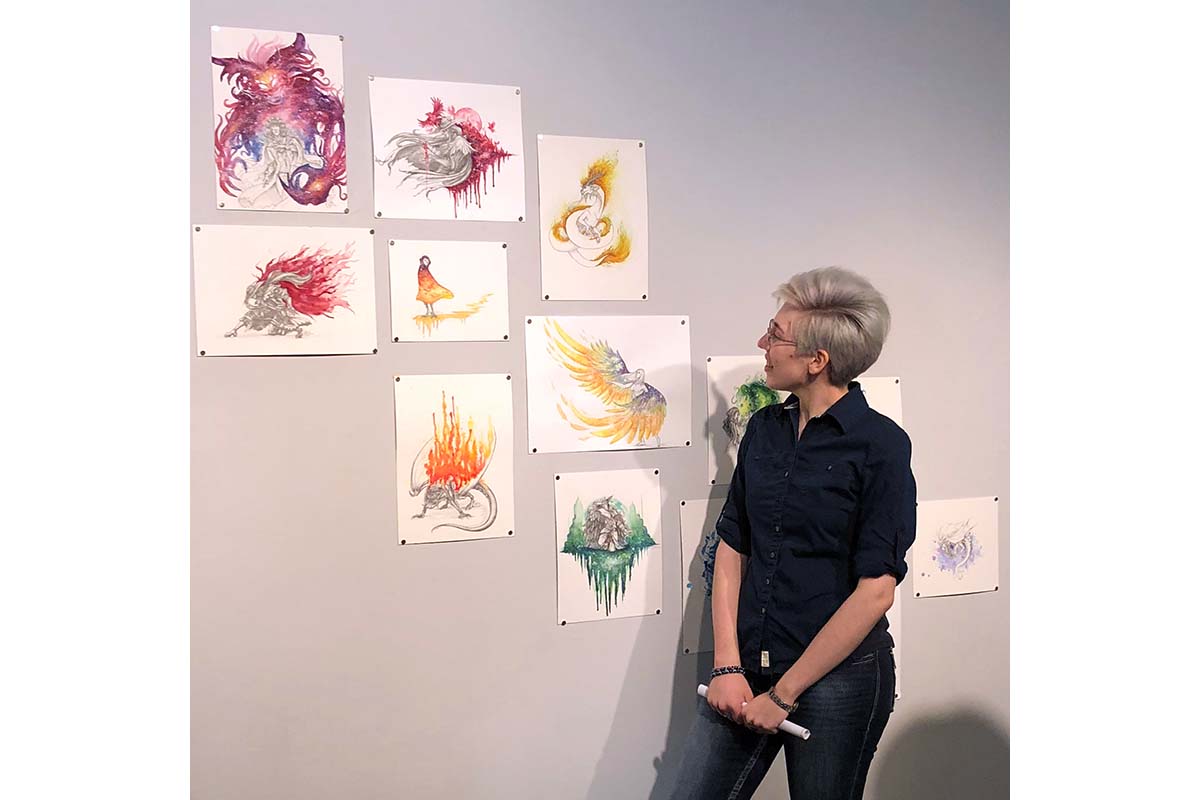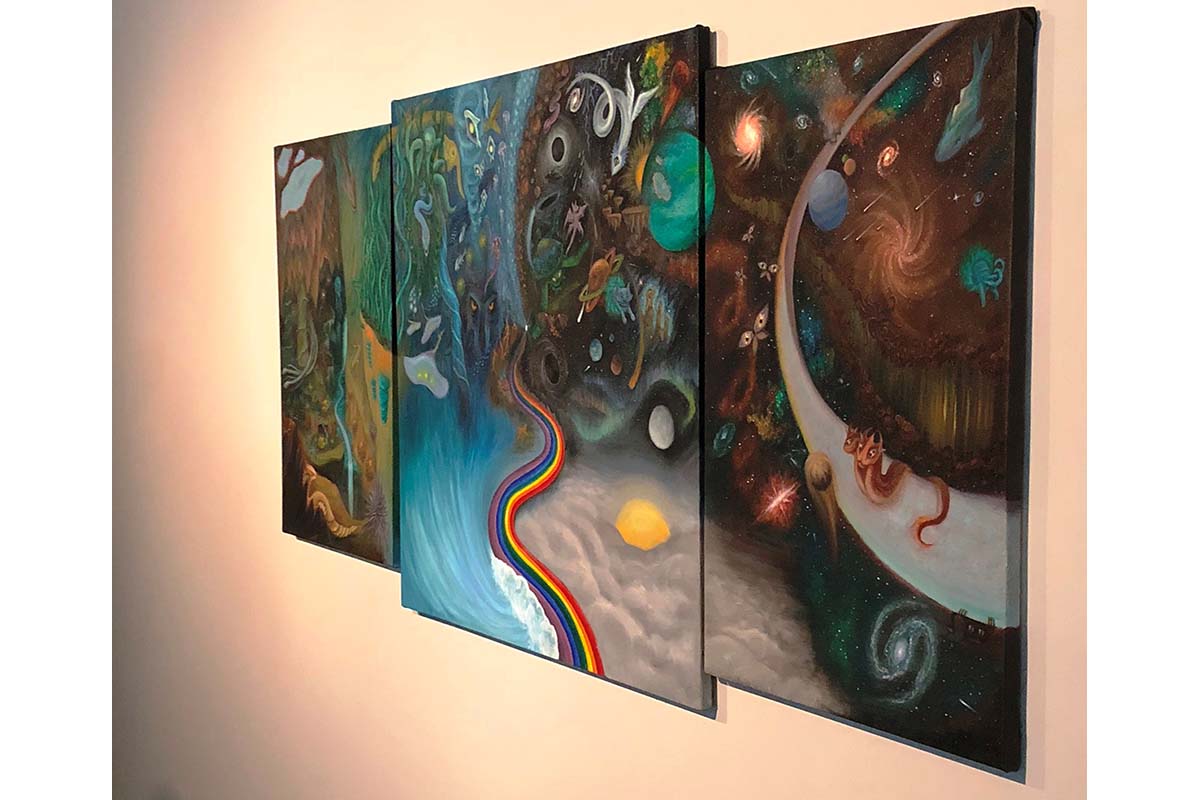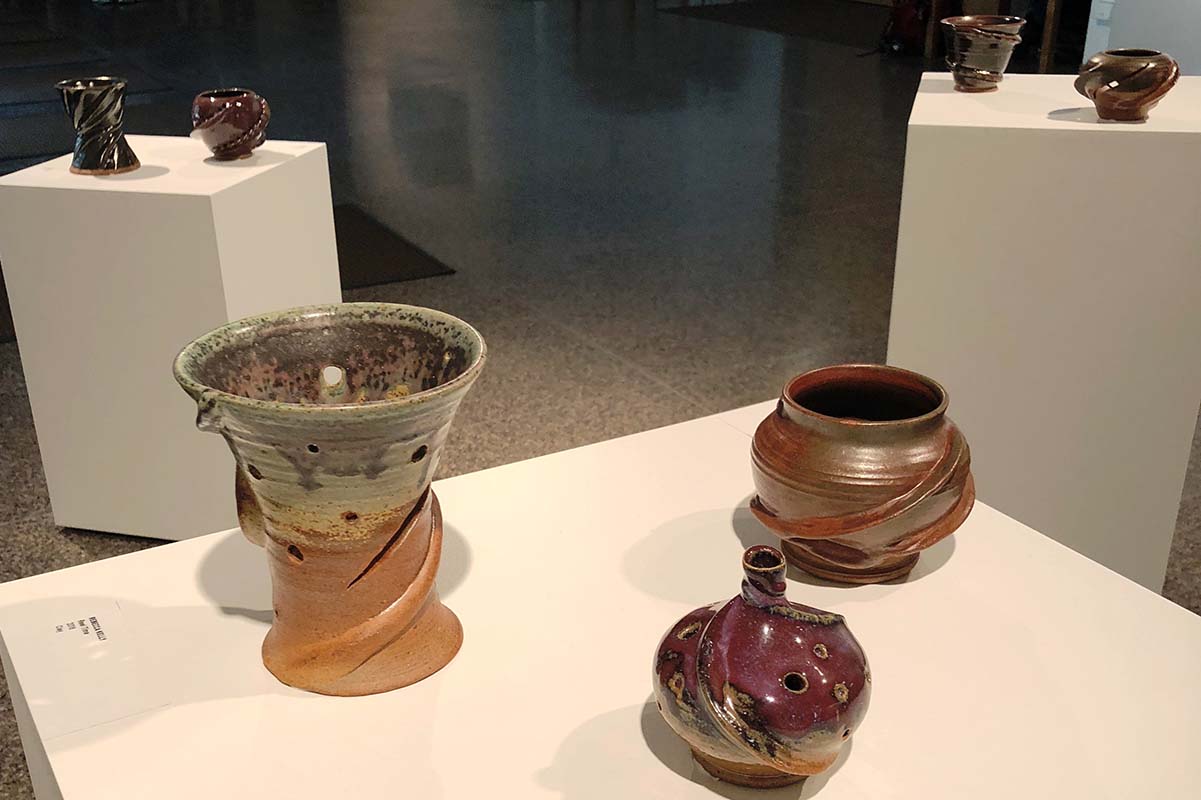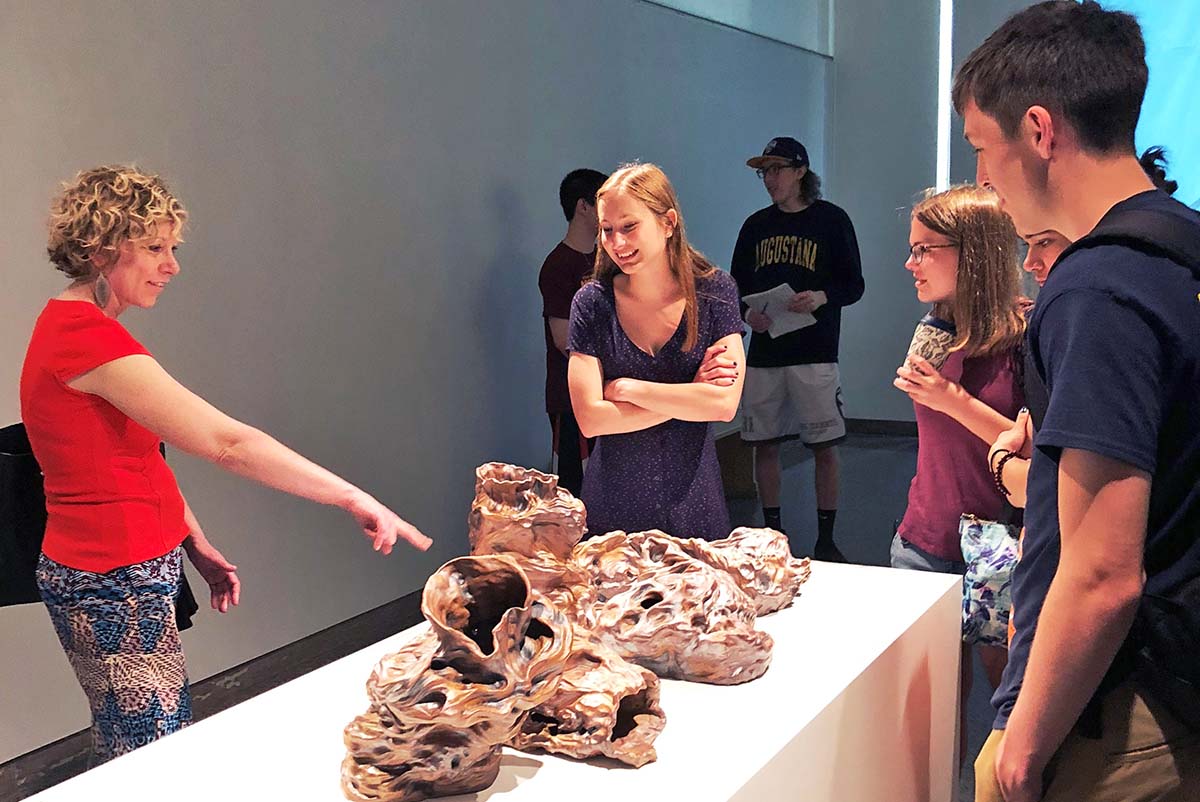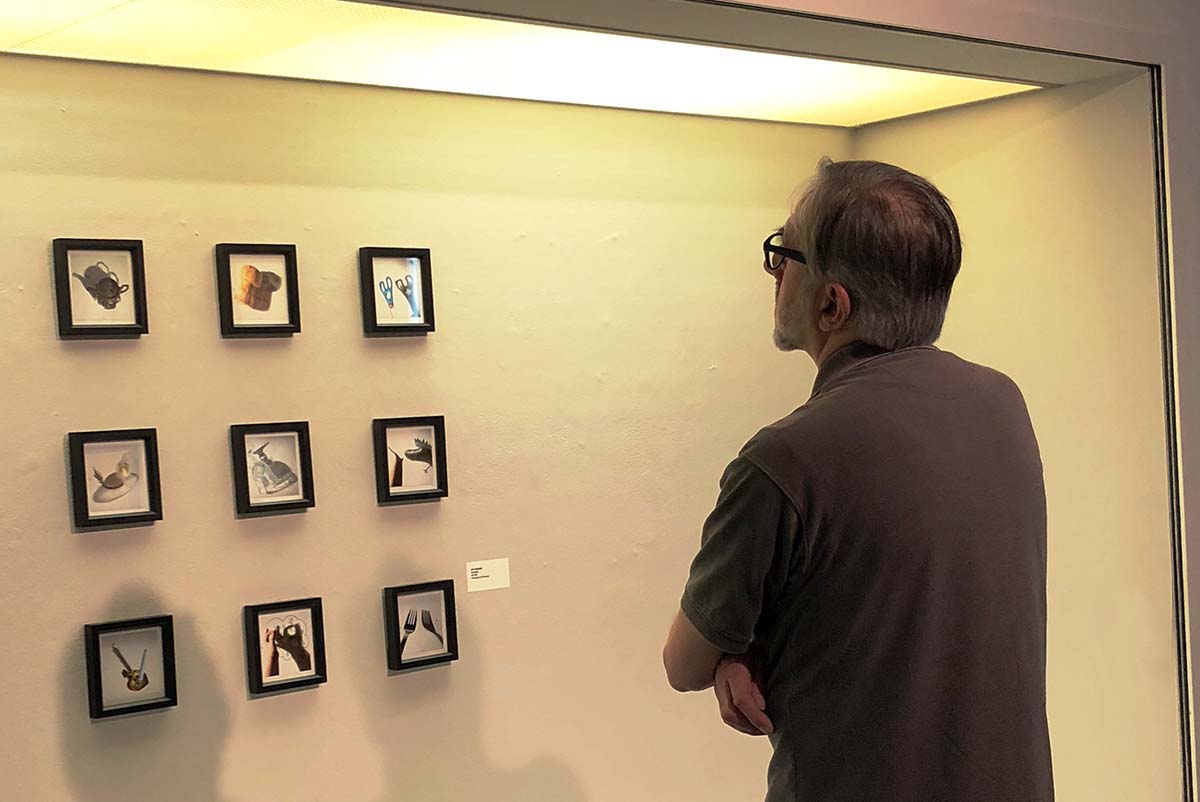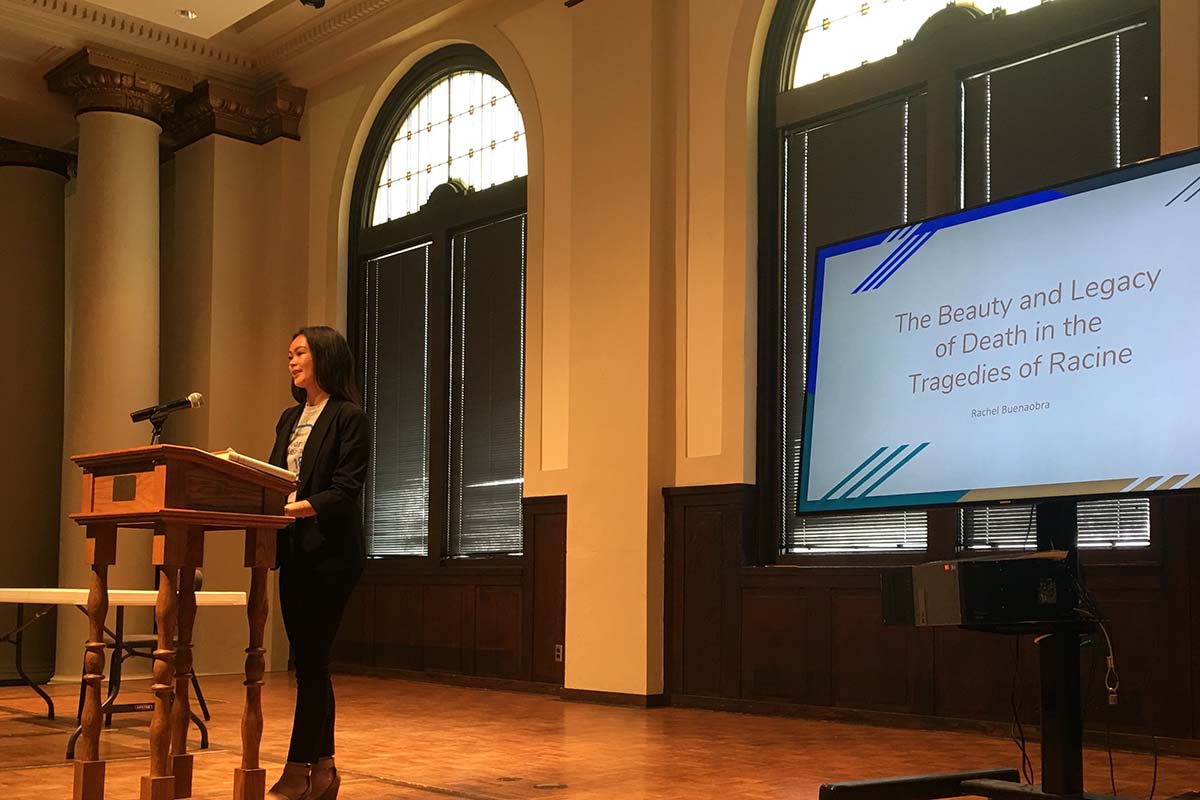 The "French Shakespeare"
Jean Racine was a 17th-century French playwright and dramatic poet whose work centers around themes like passion, love, royalty, captivity and death. Although the "French Shakespeare" is only known for 10 plays, his work addresses many aspects of the human existence.
Several students focused on a different topic for a Senior Inquiry project and studied it over three consecutive terms (fall, winter and spring).
Rachel Buenaobra '18 spoke about "The Beauty and Legacy of Death." She described the presence and absence of death in Racine's work, particularly through Berenice (1671) and Phèdre (1677). Both elements contributed to these women's lives — the way they viewed others, and, most importantly, how they saw themselves — which ultimately led to their physical and spiritual fates. Phèdre's suicide by poison also reflected societal views about female appearance.
Buenaobra's project advisor was Dr. Taddy Kalas.