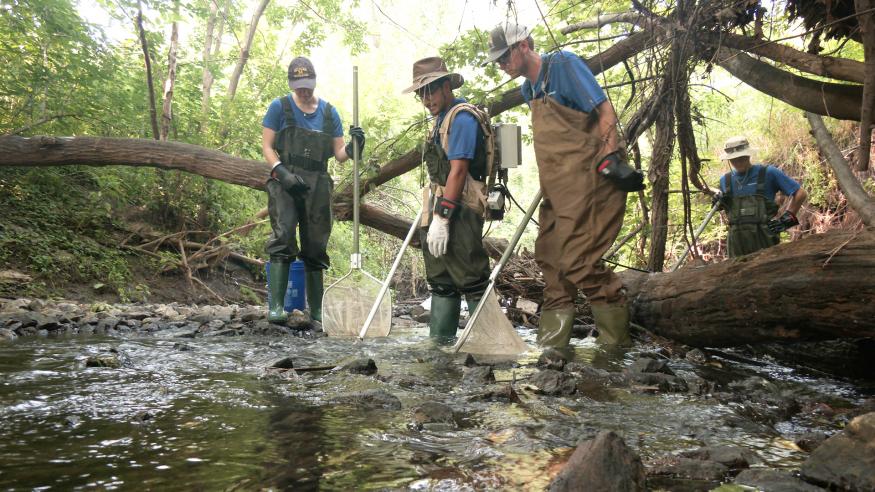 News
Students shine in summer internships across the country
As summer interns, more than 150 Augustana students discovered what they want to do in life, what they don't want to do, and how to use what they've learned in class to be collaborative problem-solvers.
Meet six of the interns: Walid Alzein '22, Texas Medical Center; Dina Marin '22, PwC; Samantha Clasen '23, SeaWorld; Trang Hoang '22, Microsoft; Kyle King '23, Pinkston Group; and Moreen Akomea-Ampeh '23, Augustana's Upper Mississippi Center.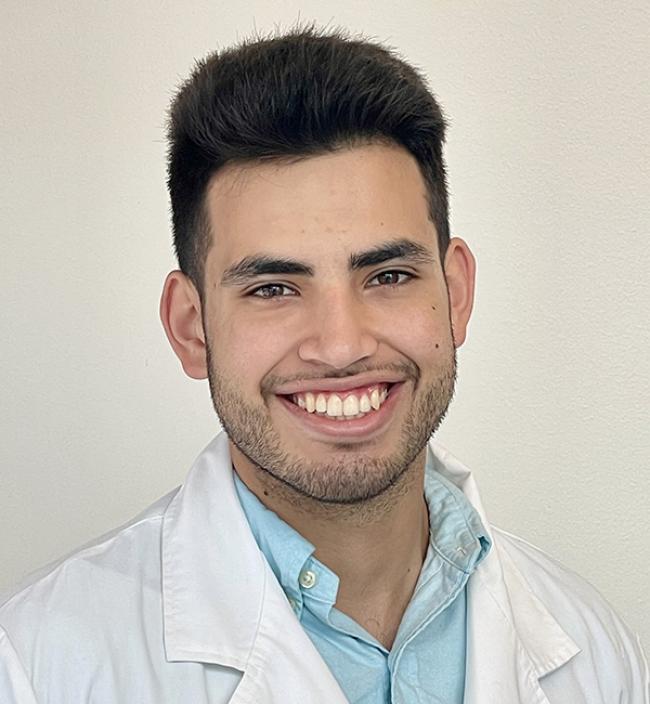 Walid Alzein '22 – Texas Medical Center, Baylor College of Medicine, Houston
Majors: Neuroscience and biology
For 10 weeks this summer at Baylor College of Medicine, Walid Alzein helped study a cancer and autism-linked mutation of a gene in mice shared with humans called PTEN. The goal is to produce more effective therapy treatments for people with PTEN-linked ASD [Autism Spectrum Disorder].
Though this research is high-level, Alzein emphasized that he came prepared.
"Augustana not only provided me with the scientific knowledge and research background required for my internship," he said, "but it also instilled the quality of work ethic needed to exceed the expectations placed on me by my lab. I earned my mentors' and co-workers' respect because Augie taught me how to work through many problems and how to ask the right types of questions required for STEM research.
"Students are accepted into this program from many prestigious schools all across the country, and never for a second did I feel less prepared than any one of them."
Though Alzein has always known he wants to work in the medical field of neurology, this internship confirmed that he enjoys the clinical aspect of neuroscience more than the research aspect.
Alzein has nothing but the highest respect for research, but discovering it was not for him was very important to find out now.
"This was the main answer I was looking for before the start of the summer," said Alzein, who can now continue with confidence toward his goal of becoming a physician assistant in neurology.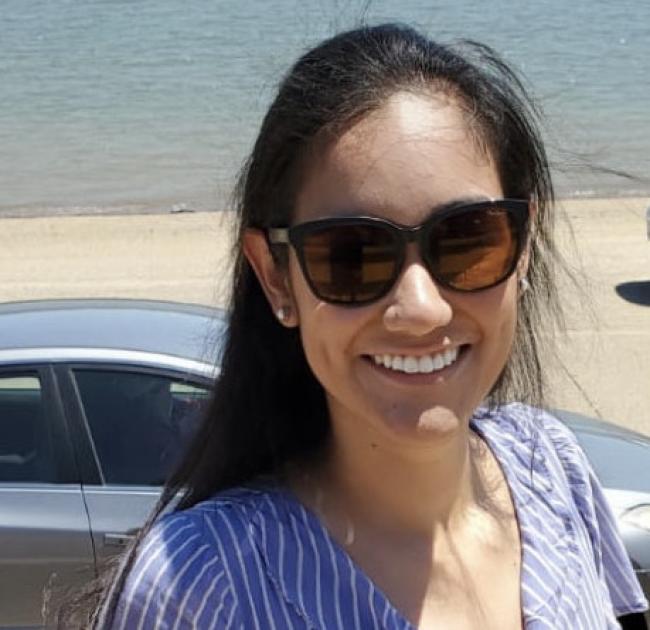 Dina Marin '22 – PricewaterhouseCoopers, St. Louis, Mo.
Majors: Accounting and international business
Minor: Economics
Dina Marin put her education to the test as a state and local tax intern for PricewaterhouseCoopers (PwC) in St. Louis, Mo., one of the Big Four accounting firms.
"My internship was overall a hands-on experience on what I'll be working on after graduation," said Marin, who plans to pursue a career in public tax accounting. 
Marin's internship came with a steep learning curve, but she was ready. "The help and support the accounting department has provided me and the technical skills I've learned through my college courses helped me understand my work better," she said.
These skills also prepared Marin for effective communication between her peers and supervisors at PwC, and taught her an important lesson. 
"I learned that there is nothing difficult to do if you love what you do and you persevere through the hardships," Marin said. "I learned that if you work hard enough on something, everything is possible."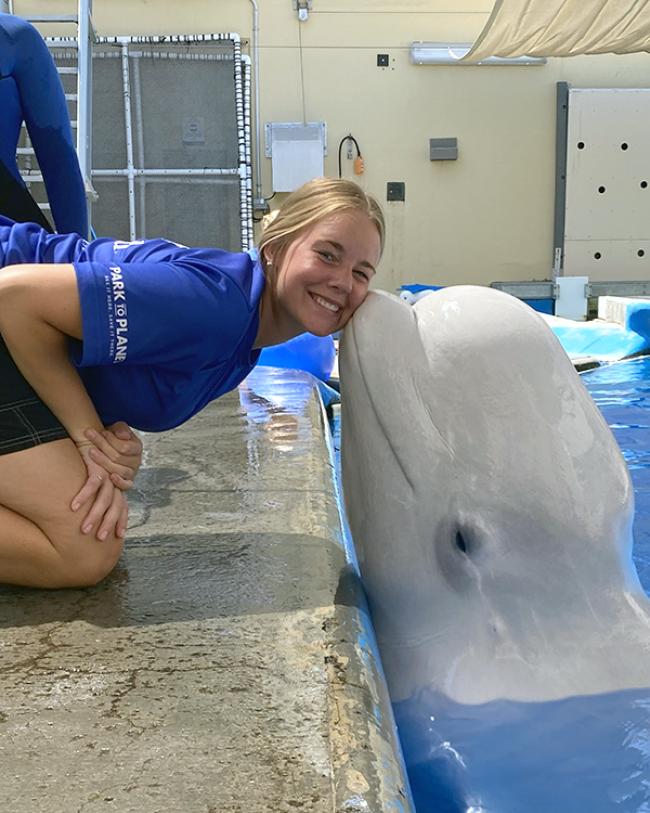 Samantha Clasen '23 – SeaWorld, San Diego, Calif.
Majors: Biology and psychology 
As a resident camp counselor, Samantha Clasen guided young campers at SeaWorld in San Diego, Calif.
"We hosted week-long sleepover camps for 5th grade through high school-aged kids," Clasen explained. During the educational stays, she kept the campers busy with behind-the-scenes activities such as feeding sea turtles, experiencing the cold environment of the penguin exhibit and touching dolphins.
Clasen was inspired to pursue an experience at SeaWorld after seeing her peers at Augustana take on challenging internships. "My advisor Dr. Lorenz played a huge part in my success, helping me through the interview process and always cheering me on," she said.
Clasen said she learned about marine animals and their habitats and the human impact on them, in addition to growing in areas related to personal skills such as communication and leadership — all while making numerous new connections.
"The experiences I had this summer were once in a lifetime, and I'm so grateful I had the opportunity to do it," she said.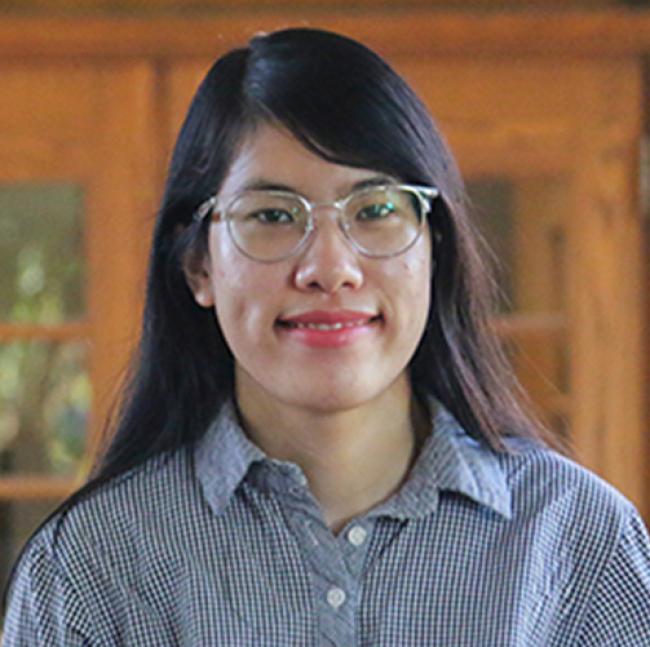 Trang Hoang '22 – Microsoft Corporation, Redmond, Wash.
Majors: Computer science and applied mathematics
Trang Hoang landed an internship as a software engineer at Microsoft Corporation., working in Cloud and AI teams and helping build the Azure Portal website, Microsoft's cloud computing platform. 
Hoang has made the most of Augustana's liberal arts focus class offerings, which helped her gain necessary skills for a career in the tech industry. "With that foundation," she said, "I was able to learn more about building software and interview preparation."
Encouraged by Microsoft's supportive community, Hoang will continue to build on this foundation, adding that she hopes her internship will lead to a full-time job offer from Microsoft.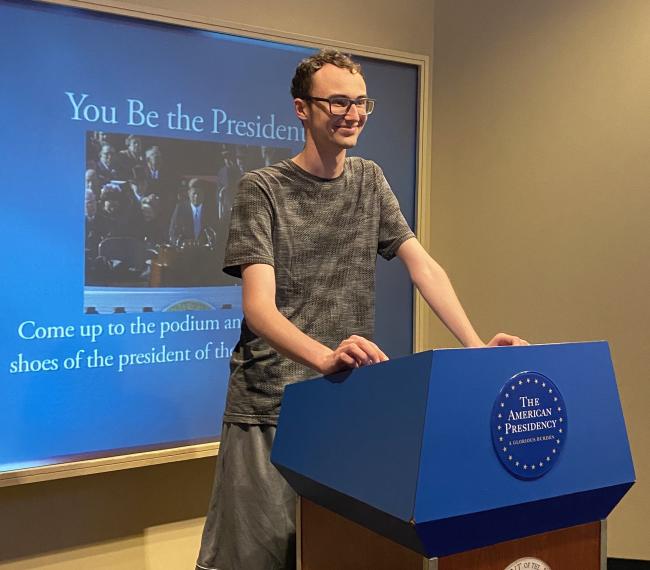 Kyle King '23 – Pinkston Group, Washington, D.C.
Majors: Political science and English 
Kyle King interned with the Pinkston Group, a strategic communications and public relations (PR) firm just outside Washington, D.C.
"I assisted other account executives with projects tailored to numerous clients," King said. His work included researching recent news coverage in a certain topic/field, crafting spreadsheets of potential media contacts to pitch, and drafting press releases on behalf of clients.
King used his Augie Choice grant to fund his D.C. experience, which is valuable practice for future law school endeavors.
"Even though PR and this position doesn't seem to correlate with these intentions outright," King explained, "the understanding that I gained in a work environment such as this one and the art of pitching stories and the rhetoric and methodology behind that can definitely influence applications down the road."
Prior to this internship, King had not studied public relations. But he felt Augustana had given him the tools to be successful.
"Learning about leadership and how presidents established precedents about how to handle conflict, crises and rhetoric also shaped my experience, since I can apply it to my own personal journey," King said.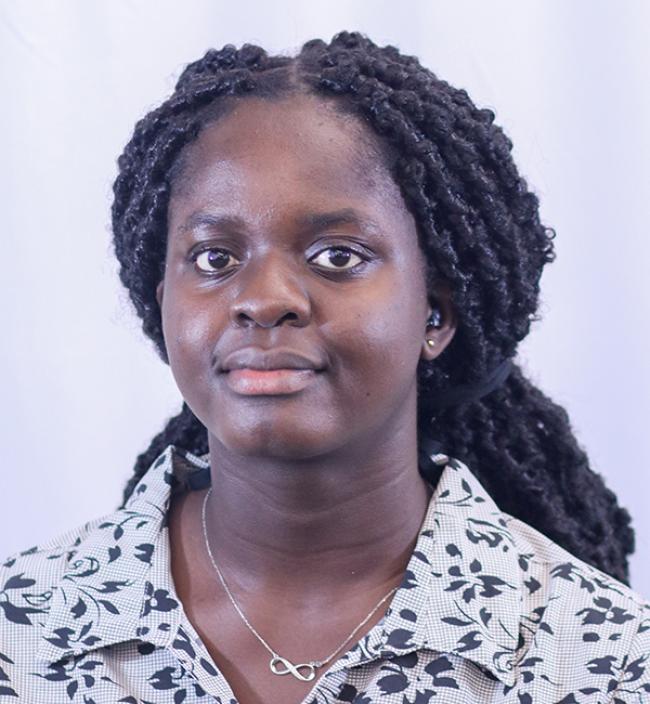 Moreen Akomea-Ampeh '23 – Upper Mississippi Center, Augustana College
Major: Chemistry
Minor: Creative writing
This summer Moreen Akomea-Ampeh investigated the impact of the aquatic ecosystem on macroinvertebrates as an intern with Augustana's Upper Mississippi Center (UMC).
She collaborated with biology professor Dr. Kevin Geedey to study water samples from varying watersheds. "I prepared solutions used to determine the concentration of sulfates, phosphates, nitrates, and ammonia in these water samples with the help of an instrument called a discrete analyzer," she said.
Akomea-Ampeh was glad to get a chance to use the sophisticated instrument for the first time. "This instrument is like a 'robot' capable of analyzing the concentration of sulfates and others in water samples ... with much more precision and accuracy compared to humans," she explained.
Like many interns, Akomea-Ampeh worked in areas both familiar and new, and picked up skills in biology and environmental studies by determining the turbidity, biological oxygen demand (BOD) and conductivity of water, and completing other tasks in the field.
She is looking forward to putting these new skills to work in a career in analytical or agricultural chemistry.
For information about internship opportunities, contact the Office of Career Development at careerdevelopment@augustana.edu or 309-794-7339.
By Jack Harris '20