ITS Work orders/Incident reports and Knowledgebase help
How to get IT help
To make sure that you get the help you need as efficiently as possible, we would like you use the following guidelines when calling the helpdesk:
Call the helpdesk if you have an emergency or you do not have internet access.
You may also call the helpdesk if you cannot explain your issue through written text.
The helpdesk phone number is (309) 794-7293. On campus, you can use 7293. Our hours are 8-4:30 M-F.
All other work orders should be placed through the Samanage portal at helpdesk.augustana.edu.
How to log into Samanage
Go to helpdesk.augustana.edu
Note: There are also links on the ITS webpage and on the employee/student information pages).
Your username is your full email address and your password is your network password
Note:  This is the same as campus PCs, Moodle, Arches, etc.
How to use Samanage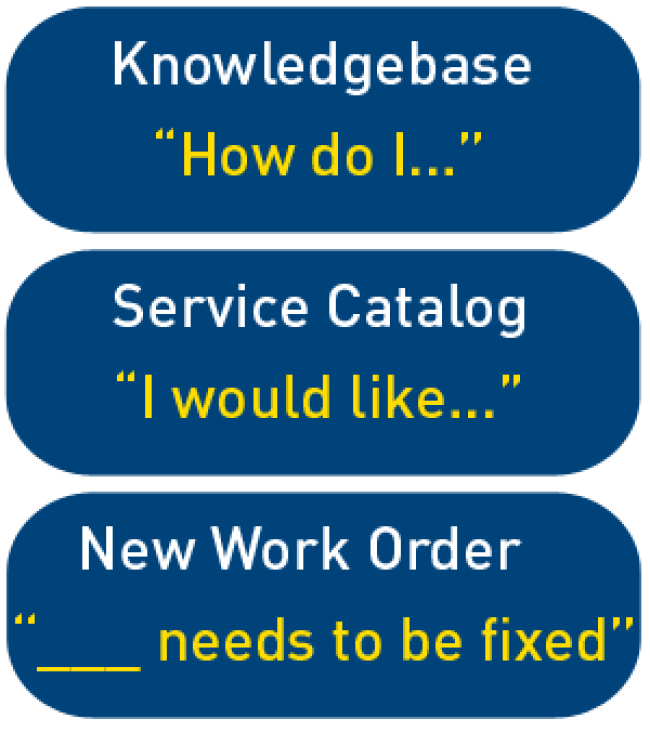 At this point you have multiple options. If your question or request starts with:
"How do I..." - you will want to search our Knowledgebase for instructions/help. You can do this on the home page of the portal (helpdesk.augustana.edu).
"I would like..." - you should start by searching for Service Catalog forms to fill out. You can search for these on the home page of the portal (helpdesk.augustana.edu).
"___ needs to be fixed" - you should put a custom work order in through our "New Work Order" button at the top of the portal.
How to use the Knowledgebase
Follow the instructions above to log into Samanage.
Use the search bar to ask your question/search for your issue.
Look through the list of knowledgebase documentation to see if any of it pertains to your issue:

If it solves your problem, you are done!
If it does not solve your problem, take a look at the Service Catalog to see if there is a catalog item that fits your issue.
How to use the Service Catalog
The Service Catalog is for service requests. Examples of service requests include, but are not limited to:
To use the service Catalog:
While logged into Samanage (instructions above), go to the Request a Service button.
Samanage sorts the Service Catalog items by topic and then lists them by subject. Look through the catalog items that we have provided to see if any of them fit your issue.
Choose the appropriate item.
Fill out the form.
Note: Some fields in the forms are required. You will not be able to submit your work order without filling out those fields. If you try to bypass this, your work order will most likely not be completed until that information is provided, as it is required for a reason – that information is often necessary to troubleshoot the problem or finish the work order.
Click Request a service.
Note: We suggest that you Use the Service Catalog, because it is often the most efficient and fastest way to process a work order. However, sometimes your issue will not fit into any of the provided Service Catalog items. In this case, you will need to submit a custom work order.
How to submit a custom Work Order
Please try to use the Knowledgebase and the Service Catalog first! This will help you find the answers and support that you need as quickly as possible. However, sometimes you will need to put in a traditional or custom work order. To do this:
While logged into Samanage, click on the New Work Order button at the top of the portal.
Note: Samanage automatically populates the work order with your name, but if this work order is for someone else, you can change the requester at this time. You can also cc yourself or someone else who needs to be in the loop for this issue.
Make sure your subject title is specific to your issue and descriptive!
Note: This helps us keep triage and keep track of issues. If the subject is simply "Work Order" or "Help!" it doesn't tell us much about the problem that you are having.
Categorize your work order to the best of your ability. This will help to route the issue to the appropriate technician. 
Note: There are categories and subcategories. If your issue does not fit into those categories, ITS can always categorize it later, but if the work order is completely miscategorized, it can delay the resolution of your work order.
Provide information about your issue:

Any information that you think might be helpful goes in the description box. Describe your problem in as much detail as you can.
Make sure to fill out as many fields that are provided as you can. Anything marked with an asterisk is required.
Customer priority can help us understand the severity of the issue to your job.
Attach any files or paste any screenshots in the description that you think may be useful to us.

When you have filled out the form, choose the New Work Order button.